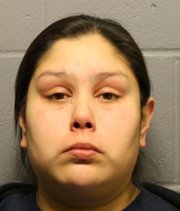 A Lawrence woman charged with second-degree murder in the stabbing death of her boyfriend early Christmas morning will return to Douglas County District Court in February for a preliminary hearing.
Marci D. Cully, 27, appeared Tuesday before District Court Judge Peggy Kittel, who set a preliminary hearing for Feb. 14. Several of Cully's family members were in the courtroom.
Cully is accused of stabbing Wayne Francisco, 33, during what police described as a domestic disturbance early Christmas morning. Lawrence police and medical personnel responded to a reported stabbing at 3:30 a.m. in the 4300 block of West 24th Place. Efforts to save Francisco failed and Cully was arrested later that morning.
Members of Francisco's family said that he and Cully had been together for about four years.
Wayne Francisco was the oldest of three boys raised by a single mother, Delphina Johnson, in Phoenix, Ariz.
Derrick Francisco, 31, said his brother moved to Lawrence about three years ago to attend Haskell Indian Nations University, where he studied forestry. Wayne Francisco recently moved back to Lawrence after spending a semester in pursuit of a second degree at a university in Montana. Derrick Francisco said his brother moved back to Lawrence to be closer to Cully and her family and also to work at a call center.
Johnson said Wayne Francisco called her and other family and friends in Arizona just hours before his death. She said he told her that Cully had a cold, that they were at his apartment and that he had just finished paying bills. They were planning to share a Christmas dinner with Cully's family in Lawrence the next day, he told her.
Francisco's body was flown on Monday to Arizona, where a two-night traditional wake was set to take place at his mother's home in Cibecue before a Saturday funeral service.
Copyright 2018 The Lawrence Journal-World. All rights reserved. This material may not be published, broadcast, rewritten or redistributed. We strive to uphold our values for every story published.