Still short on beds
Even with capacity increased from 75 to 125, the Lawrence Community Shelter is still turning away homeless people who need a place to sleep.
"We've been full almost all the time, even with warm weather," shelter Director Loring Henderson said.
The shelter gets calls from two or three families a day it can't house, Henderson said. Most are referred to resources in neighboring cities.
Although he has not prepared a formal request, Henderson plans to ask the city for permission to take in more guests during cold weather.
He hopes the city will allow some additional guests to sleep on mats inside the shelter's warehouse space on nights when the temperature is below freezing. While accommodations do not meet the shelter's permit requirements for long-term housing, Henderson said he believes the space — which is heated with a sprinkler system and bathrooms — is suitable for temporary shelter.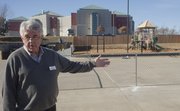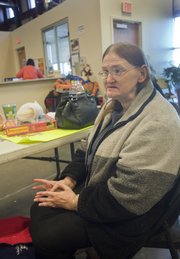 The Lawrence Community Shelter's 13-year-old Pontiac Montana — mileage 195,925 — is one busy minivan.
In the first year at its new location, the homeless shelter significantly increased capacity, permanent housing placement and programming activity. All that combined with being at the far edge of town — an industrial park east of O'Connell Road and Kansas Highway 10 — means transportation needs have increased, too.
"It's a lot like a Rubik's cube," shelter Director Loring Henderson said of the travel schedule. "We have constant demands on the van."
On Dec. 29 last year, the shelter moved from its 7,700-square-foot home at 214 W. 10th St. to 15,000 square feet at 3655 E. 25th St. Capacity increased from 75 to 125, and everyone sleeps in bunk beds instead of on mats on the floor. The new shelter's 39-person family area even has semi-private spaces for each group, including some with newborn babies.
In 2012, 34 guests moved from the old shelter into permanent housing, Henderson said. So far in 2013, 229 have moved from the new shelter into permanent housing.
Henderson attributes that to increased focus on programming at the new location. The old shelter had most of the programs the new one does, but he said more space and a renewed emphasis on participation — with the ultimate goal of guests being on their own — has made a difference.
"To be in the shelter, you pretty much need to be in the programs," he said. "The old shelter was so crowded and so cramped and so busy it was really hard to point out that we had programs there."
Case managers connect guests to mental health counseling, addiction treatment, medical care, employment opportunities and government benefits. In addition to being a cargo vehicle for food — the new shelter serves about 300 meals a day — the minivan helps shuttle guests to all those appointments, jobs and court hearings.
Able-bodied guests can walk to the shelter, although it's close to 5 miles from downtown. A school bus takes the roughly 20 K-12 students living at the shelter to class. Sometimes guests catch rides with friends, or police. There's also a city bus stop there, and the shelter receives 50 passes per day.
But for days the bus doesn't run, guests don't plan far enough ahead or things come up unexpectedly, the minivan and a few volunteer drivers attempt to fill the gaps.
Roxanne Hayden, who just moved into an apartment after almost six years in the shelter, called it a "loving place." Having real beds — and even drawers for belongings — is one of many improvements, she said.
Hayden doesn't like the bus, but she got used to it.
"That's alright," she said. "You can't live in a comfort zone."
The Lawrence Community Shelter gets most of its funding from donations, including money for the move. Henderson is grateful each day he spends in the new facility.
"The old building was so inadequate," he said. "And this building ... serves people so well and so humanely and with such dignity."
Copyright 2018 The Lawrence Journal-World. All rights reserved. This material may not be published, broadcast, rewritten or redistributed. We strive to uphold our values for every story published.