If moving day is an exciting, but complicated, event for most of us, imagine what it's like for a homeless shelter with 120 people living in it.
That long-awaited day finally came Saturday for the Lawrence Community Shelter, moving into its new home at the eastern edge of Lawrence. A bus borrowed from the Boys and Girls Club of Lawrence helped carry the shelter's guests from the old building at 10th and Kentucky streets to the new one, located in a converted warehouse space at 3701 Franklin Park Circle. Together with others who hadn't been able to find room at the old location, 120 people moved into the new shelter Saturday, said Loring Henderson, director of the shelter.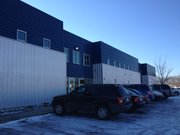 By noon, the guests were finding their way around their new place, tracking down misplaced bags, grousing over new sleeping arrangements, and experiencing all the little trials that go along with a big move.
"Lots of lumps, as with any first day," Henderson said while stacking up boxes in the lobby. "We call it normal."
Several guests stopped Henderson in the hallways to compliment the new shelter, which houses 50 more people than the previous one and, for the first time, will offer three meals a day, seven days a week. With more than 7,000 additional square feet in the shelter's living and working areas, there will be space for private rooms for families, a medical clinic staffed by volunteers, and more showers, lockers and laundry machines.
While some guests were still sleeping on mats Saturday, all will eventually have beds at the new shelter. It also has 10,000 square feet of vacant warehouse space that it plans to use for job training programs and partnerships with businesses in the future.
The shelter's move, and the renovations to the building that made it possible, were paid for through a capital campaign that raised about $3.3 million for the project. The project received a $540,000 grant from the Mabee Foundation in Tulsa, Okla., but the bulk of the money came from local donors.
Individual donors also provided a large set of picture windows that lets sunshine into the new shelter's dining room, and a flat-screen television where, Henderson said, the guests might watch KU basketball and the Super Bowl.
Jade Vargas, of Lawrence, has been a guest of the shelter for several weeks and spent Saturday volunteering at the front desk, taking calls and greeting newcomers. He heard mostly positive reactions, he said, and said the added laundry and shower facilities and greater sleeping space than the previous building were among the most important new benefits.
"We were so packed in down there, it was insane," he said.
A long walk from downtown
Things will be different at the new location, even beyond the added facilities.
The shelter will stop serving as a community drop-in center. At its downtown location, it served as a place where anybody could drop in and get off the streets for the day. Here, only people who have committed to a shelter program and actively work to get out of homelessness will be allowed to stay.
The one drawback that some guests, including Vargas at the front desk, pointed to was the new shelter's location at the edge of the city.That's a long walk from downtown, and it includes a stretch of Kansas Highway 10 that isn't as safe to walk on as a city street. But the city has added a bus route that stops by the shelter once per hour, and the shelter also has a van and a volunteer driver that guests can sign up for rides with.
Rik Fawcett, 32, has been a guest of the shelter for 16 months and he never agreed with the location, but he did approve of most other aspects of the new facility, which incorporated many of his and other guests' ideas from the planning stage. As someone who worked as a contractor and has experienced homelessness in Chicago, Baltimore and Miami, Fawcett said he had made an effort to be involved in planning the renovations.
The guests' suggestions had included choosing the most sturdy furniture possible to hold up to inevitable wear and tear, and setting aside private space for families. The nine families and 22 children at the shelter are housed apart from groups of single men and women, all coming from different backgrounds.
"We're going to miss having the kids around" he said. "But there are sometimes bad apples around, setting bad examples for them."
Many of the guests had other anxieties on Saturday, he said, because long-standing personal routines were being disrupted. A couple of guests were ultimately unwilling to make the move, preferring to stay outdoors in the downtown area. With the cold winter weather that has come to Lawrence, Fawcett said, he worried about them.
"That's not a good call," he said. "That's going to weigh on my mind."
Copyright 2018 The Lawrence Journal-World. All rights reserved. This material may not be published, broadcast, rewritten or redistributed. We strive to uphold our values for every story published.