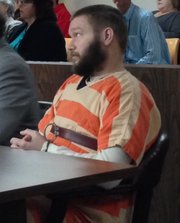 A Franklin County judge granted a second request by state prosecutors to perform DNA testing on evidence in the capital murder case of a man accused of killing four people, including an 18-month-old child, in rural Ottawa in May.
Franklin County District Judge Thomas H. Sachse granted the request in the state's case against Kyle T. Flack, 28, of Ottawa, over an objection by Flack's court-appointed attorney, Ron Evans.
Evans has asked that the testing not be allowed on grounds that forensic scientists have said that some items could be destroyed during testing that could otherwise be used as evidence in a trial. Prosecutors filed the motion for the second round of testing last month.
"It denies Mr. Flack an opportunity to inspect the evidence," said Evans, who heads the Kansas Death Penalty Defense Unit in Topeka. "When they destroy evidence by consuming it, it denies us the right to confront the evidence."
Evans cited the Confrontation Clause in the state and federal constitutions in arguing that evidence destroyed before the defense could review it would be inadmissible in court. "Whether there was bad faith in destroying it or not," he added.
In July, Sachse granted prosecutors' requests for DNA testing on 13 items that might be introduced as evidence at trial. Those items, and the additional five requested in the state's second motion, have not been publicly described because the requests were made under seal.
Flack is charged with capital murder, first-degree murder, rape and criminal possession of a firearm in the May deaths of Andrew Adam Stout, 30; Steven Eugene White, 31; Kaylie Kathleen Bailey, 21; and Bailey's 18-month-old daughter, Lana-Leigh.
Deputy Attorney General Victor J. Braden is leading the prosecution in the case, and Franklin County Attorney Stephen Hunting is also participating.
Copyright 2018 The Lawrence Journal-World. All rights reserved. This material may not be published, broadcast, rewritten or redistributed. We strive to uphold our values for every story published.