Lawrence crime, fire, courts coverage
Have a tip?
Contact Journal-World reporter Caitlin Doornbos: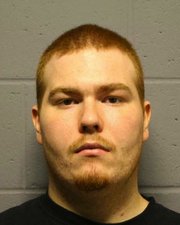 A 23-year-old Lawrence man has been arrested and charged with attempted murder in connection with a shooting that hospitalized a 20-year-old man, also of Lawrence, early Sunday morning.
John P. Barton was arrested about 8 p.m. Wednesday evening in the 3800 block of Greenway Circle and booked into Douglas County Jail. Douglas County prosecutors have charged him with attempted second-degree murder.
Barton reported the shooting about 1:30 a.m. Sunday in the 2300 block of Murphy Drive, when he called police to tell them he had shot at a man he saw breaking into his car. A 20-year-old man wounded by shotgun fire has been in a hospital this week while police investigated the circumstances of the shooting.
No arrests were made Sunday, and Barton was cooperative with police investigators, said Sgt. Trent McKinley. Since then, detectives have investigated the circumstances of the shooting and prosecutors believe Barton knew the man who was shot and that the two may have been involved in an altercation earlier that day, according to a news release from Douglas County District Attorney Charles Branson.
Barton was charged in Douglas County District Court today and remained in jail with bond set at $35,000. Police have declined to identify the shooting victim in case there are charges to be filed against him in connection with the incident, McKinley said.
Police determined that Barton fired about three shots from the second-floor window of his apartment. The shooting victim was found nearby, with wounds from shotgun fire on his right side, including his shoulder and arm. He was first transported to Lawrence Memorial Hospital, but later moved to a Kansas City-area hospital.
A Kansas statute governing self-defense says that a person is justified in the use of force to prevent unlawful interference with property.
But about property other than a home, a place of work, or an occupied vehicle, the law says, "Only such use of force as a reasonable person would deem necessary to prevent or terminate the interference may intentionally be used."
The injured man was at least the fourth person shot in Lawrence this year. On July 17, a 51-year-old Lawrence man was killed in a shooting at 647 Michigan St. In May, two Topeka men were critically injured in a shooting in the 800 block of Greever Terrace. Criminal charges are pending in both cases.
Copyright 2018 The Lawrence Journal-World. All rights reserved. This material may not be published, broadcast, rewritten or redistributed. We strive to uphold our values for every story published.