Summer vacation has come to a close, and Lawrence students from first through ninth grade return to school today. By the end of the week, all of the district's approximate 11,000 students will be back in class.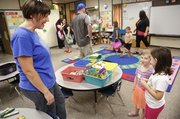 As students once again adapt to the school routine — early mornings, regulated class periods, after-school activities and homework — they may notice some changes in their surroundings.
While students were enjoying a 13-week break from class, the district was busy hiring new faculty, starting up new programs and drafting a budget for the upcoming year. Renovation and construction projects were planned after the approval of the bond issue, and work was done to implement a blended classroom model that will be used districtwide this fall.
Here is a look at some of what (or who) is new at each of Lawrence's 21 school campuses for the coming school year.
Broken Arrow Elementary School
The approved $92.5 million bond issue includes districtwide construction and renovation projects that are slated to begin this spring. For Broken Arrow, that means a dedicated special-education space, updated technology, heightened accessibility and mechanical, electrical and plumbing upgrades. Check the USD 497 website for updates.
Cordley Elementary School
Julie Boyle, spokeswoman for the district, said that the blended learning instruction model has been expanded to all schools this fall after a limited pilot program at the end of last year. At Cordley, one kindergarten class and one fourth grade class will participate in the blended model, which includes a mix of teacher-directed instruction with virtual education. In the fourth grade class at Cordley, students will start to do their homework online.
Deerfield Elementary School
Deerfield will benefit from the bond issue by having classrooms enlarged, receiving a dedicated special-education space, getting updated technology and heightened accessibility and undergoing mechanical, electrical and plumbing upgrades. The construction projects are planned to begin this spring.
Hillcrest Elementary School
Because of road construction, there will be new procedures for traffic flow and new routines and locations for drop-off and pick-up, bus traffic and foot traffic near Hillcrest. As construction begins, Hillcrest will distribute notices and information regarding the changes.
Kennedy Elementary School
Kennedy will undergo about $8.6 million in facility improvements as part of the approved bond issue. According to the school newsletter, staff and families will begin the process of developing plans for renovations.
Langston Hughes Elementary School
With the bond issue renovations and construction starting this spring, Langston Hughes will have its kindergarten classrooms enlarged, and get a dedicated special-education space, updated technology, site improvements and mechanical, electrical and plumbing upgrades.
New York Elementary School
Boys & Girls Club of Lawrence will start a new after-school program at New York Elementary. Sakina Henderson is the Boys & Girls Club program manager assigned to the school.
Pinckney Elementary School
Pinckney students will be met by a new principal, Kirsten Wondra. Wondra previously taught second and fifth grade in the Derby school district and most recently served as an educational consultant at the South Central Education Service Center in Clearwater.
Prairie Park Elementary School
The school schedule has changed at Prairie Park. Classes will run from 8 a.m. to 3 p.m. on Monday, Tuesday, Thursday and Friday and 8 a.m. to 1:30 p.m. on Wednesday. In previous years, hours were 7:50 to 2:50 p.m. with an early release of 1:20 p.m. on Wednesdays. Students also will see some new faces around school, as there are 18 new staff members.
Quail Run Elementary School
The Quail Run Boys & Girls Club after-school program will receive a new program manager, Adam Lauridsen. Lauridsen grew up in Lawrence and has worked at an orphanage in Romania, an inner-city outreach program in St. Louis and a camp for children with disabilities in Missouri.
Schwegler Elementary School
Schwegler will be implementing a new mentoring program for kindergarten families.
Sunflower Elementary School
Boys & Girls Club of Lawrence is starting a new after-school program at Sunflower Elementary, and Genevieve Labe will be the program manager for it.
Sunset Hill Elementary School
Darcy Kraus was appointed Sunset Hills' new principal earlier this summer. Kraus recently completed her fourth year as an elementary language arts consulting teacher for Topeka Public Schools. Prior to that, she was a Title I Reading liaison, a seventh grade reading teacher, and a first and second grade teacher.
Woodlawn Elementary School
Counselor Shanna Vantuyl has spent the summer training a puppy, Bentley, who will begin working at the school as a therapy dog.
Liberty Memorial Central Middle School
New staff includes: Adrian Trujillo, seventh and eighth grade math; Lisa March, school nurse; Laura Sutliffe, speech and language pathologist; Deb Keary, guidance counselor, Amber Solida, library media specialist; Francis Rico, wrap worker, and Jesse Brinson, eighth grade football coach.
West Middle School
West will receive a budget of $911,165 for facility improvements as a result of the approved bond issue.
South Middle School
During the summer months, SMS hired several new members for its faculty. Laura Hochman will teach sixth grade English language arts, Zach Harwood will teach eighth grade science, Arla Jones will teach English as a second language and Tom Barker will teach seventh grade social studies.
Southwest Middle School
Shaun Hanson, a middle school math teacher from the Blue Valley school district, will be Southwest's new assistant principal. Hanson also served as a math specialist and coordinator and coached basketball, football, and track and field in Blue Valley.
Lawrence Free State High School
After Patrick Kelly was named to lead the district's efforts to expand career and technical education programs, Steve Heffernan, who just finished his 16th year teaching science at Free State, was named to take over as associate principal. Keith Jones, who was an administrative intern and freshman administrator at Blue Valley Northwest High School, is the new assistant principal.
Lawrence High School
Bill DeWitt is taking over as assistant principal and athletics director, two part-time positions that have been combined into a single full-time job. DeWitt completed his fourth year as principal of Thomas More Prep-Marion, a co-educational boarding school in Hays, in May. Prior to that, DeWitt taught social studies at Eudora High School and taught at Tonganoxie High School.
Lawrence Virtual School
Earlier this summer, Monte Westfall was named the assistant principal of the K-8 web-based school. Westfall was the performing arts coordinator in the Blue Valley school district for three years, and also has worked in the Shawnee Mission, Kansas City, Kan. and Coppell, Texas school districts.
Copyright 2018 The Lawrence Journal-World. All rights reserved. This material may not be published, broadcast, rewritten or redistributed. We strive to uphold our values for every story published.