Photo Gallery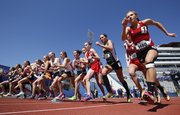 Kansas Relays (Friday)
Images from Friday's events at Memorial Stadium.
Free State High track coach Steve Heffernan had already sent junior Alexa Harmon-Thomas home once because of the stomach flu, and when she returned a few hours later Friday to the Kansas Relays, she looked even worse.
"Just go home and don't worry about it," he told her. "Unless some miracle happens, we'll just see you Saturday."
The coach should have known better.
Though Harmon-Thomas had to miss the 300-meter hurdles in the afternoon, she came back a few hours later fueled by Pedialyte, rice and a desire to defend a title from last year.
The junior, who had to take extra breaks with her warm-ups, still was strong enough to easily take Friday's high-jump championship, winning with a top clearance of 5 feet, 8 inches.
"To do what she did in the high jump," Heffernan said, "is a pretty good credit to how she handles pressure and adversity."
Harmon-Thomas nearly set a season-best while battling the illness. She just grazed the bar at 5-10 on her second attempt.
Though she's cleared that mark in both the winter season and in practice, she has yet to do it in competition this year.
Still, her mark of 5-8 was 33⁄4 inches higher than the next-best competitor.
"It was great to get a win," Harmon-Thomas said. "I'm just happy I could come out and jump as well as I did."
Harmon-Thomas had her usual pre-meet meal of pasta and salad Thursday night before starting to feel sick in the early-morning hours Friday. That included bouts of nausea along with an inability to keep any foods down.
Harmon-Thomas still decided to show up to the Kansas Relays for the 100-meter hurdles preliminaries at 8:55 a.m. Though she barely did any warm-up — she had to sit down after nearly every drill she did — the junior still posted the best qualifying time out of 34 competitiors (14.74 seconds).
Afterward, a dizzy Harmon-Thomas thought for a while that she might pass out. After trying to walk off the dizziness, coaches sent her home for the first time to take a nap.
When she showed up to run the 300-meter hurdles just before noon — an event she would have been favored in — coaches sent her home again.
"It was a big disappointment," Harmon-Thomas said. "I really like running that race, and I really like running it here, because there's a lot of good competition."
Harmon-Thomas said the Pedialyte helped her get electrolytes back, while her second two-hour nap of the day boosted her energy.
"It was probably a good decision that I didn't (run in the 300 hurdles)," Harmon-Thomas said, "because I was still able to come out and high jump pretty well."
Harmon-Thomas was the highlight for Free State, which also received a strong performance in the day's first event from Luke Werner.
In his first appearance at the Kansas Relays, Werner finished sixth in the javelin with a throw of 164-2.
"To come in and get a PR on a day when the temperature outside was miserable showed a lot of toughness on his part," Heffernan said.
FSHS's Claire Sanner added a top-five finish in the 2,000 steeplechase, taking fourth with a time of 7:55.59.
The Firebirds' girls distance medley relay team of Sanner, Laura Kennard, Molly McCord and Bailey Sullivan finished sixth, in 12:53.34. That also was the second-best time from a Kansas high school team.
"The big thing is we saw a lot of kids come in and compete well," Heffernan said.
Lawrence High was led by Grace Morgan, who finished 12th in the 3,200 with a time of 11:25.63. That set a personal-best by six seconds.
"She ran a really smart race. I couldn't be more proud of her," LHS coach Jack Hood said. "She wasn't satisfied last week (with an 11:55.84 at Barrier Breakers meet), and this was a chance to come back in a big-time environment, and she ran really well."
Area schools added a few top-five finishes: Ottawa's Kord Ferguson in the boys shot put (second, 60-5), Baldwin's Katie Kehl in the girls shot put (third, 44-4) and Tonganoxie's Jennifer Whitledge (second, 5-04.25) and Haley Griffin (third, 5-04.25) in the girls high jump.
Both Lawrence schools will open competition at the Kansas Relays today with the girls sprint medley relay at 8 a.m.
Copyright 2018 The Lawrence Journal-World. All rights reserved. This material may not be published, broadcast, rewritten or redistributed. We strive to uphold our values for every story published.