Lawrence crime, fire, courts coverage
Have a tip?
Contact Journal-World reporter Caitlin Doornbos:
• An 18-year-old Lawrence man was sentenced to three years probation Friday in Douglas County District Court for his part in a Jan. 17 home invasion at an apartment in the 1700 block of West 24th Street. Quentin Marcel Hill faces a 32-month prison sentence suspended pending the probation period. District Judge Michael Malone said the sentence was appropriate given Hill's lack of criminal history, and the fact that his co-defendants received similar sentences in the case.
• Jefferson County prosecutors have charged an 18-year-old McLouth man with aggravated indecent solicitation of a child after his arrest Saturday on suspicion of using Facebook to contact a juvenile for sexual purposes. The Journal-World generally does not name suspects in sex crimes unless they are convicted. The man could face probation or up to 136 months in prison if found guilty, depending on his criminal history.
• One of three Lawrence men charged with aggravated robbery in connection with a January incident in the 2500 block of Redbud Lane has been sentenced to one year of probation. Walter Warren, 28, pleaded guilty to charges of theft and battery as part of a plea agreement with Douglas County prosecutors in March. Quindale Orlando Wise, 30, is scheduled to go to trial in June on charges of robbery, burglary, battery, criminal restraint and criminal damage. Prosecutors dropped similar charges against Eddie Jelano Howard, 24, and have instead charged him with obstruction of justice.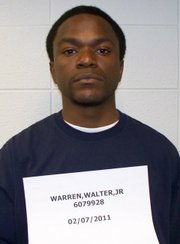 Copyright 2018 The Lawrence Journal-World. All rights reserved. This material may not be published, broadcast, rewritten or redistributed. We strive to uphold our values for every story published.