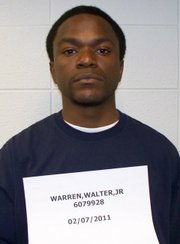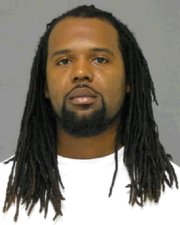 Three Lawrence men were charged Tuesday with aggravated robbery and aggravated burglary in connection with a Sunday evening incident in the 2500 block of Redbud Lane.
Officers were dispatched to a report of a burglary shortly before 10 p.m. Sunday, where they arrested Walter Warren, 28, Eddie Jelano Howard, 24, and Quindale Orlando Wise, 30.
In addition to the felony robbery and burglary charges, each also faces misdemeanor charges of battery, criminal restraint and criminal damage. Prosecutors accused the three of stealing a Playstation gaming system and damaging property in the victim's home.
Douglas County District Pro Tem Judge James George set bail for each at $75,000. All three of the defendants next appear in court Jan. 29.
Warren is also being held on several out-of-county warrants, and, according to prosecutors is on probation for a drug conviction and has failed to appear in court on five previous occasions.
Wise was also arrested Jan. 11 on criminal damage and domestic battery charges. Howard is awaiting sentence on a felony drug charge.
Aggravated robbery carries a sentence up to 247 months in prison, depending on a person's criminal history. Aggravated burglary can carry a sentence as high as 136 months in prison.
* To view recent LJWorld crime stories, click here.
* Click here to view the weekly arrest log.
Copyright 2018 The Lawrence Journal-World. All rights reserved. This material may not be published, broadcast, rewritten or redistributed. We strive to uphold our values for every story published.