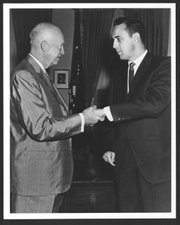 Contact KU and higher ed reporter Sara Shepherd
Have a tip or story idea?
---
More stories
This year's Dole Lecture at Kansas University's Dole Institute of Politics will take a different tack, Bill Lacy says. Instead of inviting a big name to talk about himself, the institute has invited an expert to take a look back at a towering political figure in Kansas' past: President Dwight Eisenhower.
The institute's 2013 Dole Lecture, it announced this week, will be given by retired Brig. Gen. Carl Reddel, executive director the Eisenhower Memorial Commission, charged with building a memorial to Eisenhower in Washington, D.C.
Reddell will speak at 7:30 p.m. May 2 at the Dole Institute, 2350 Petefish Drive.
Other recent Dole Lecturers have included former Senate Majority Leader George Mitchell and journalist Bob Woodward, and Lacy, the institute's director, said such "household names" will return in the future. But he said he wanted to change things up this year to allow a look back at a significant figure who's no longer around.
"We wanted to give ourselves the ability to expand back into history," Lacy said.
But the topic has some current interest, too. The plans for the Eisenhower memorial have stalled during the last two years after the design for the $142 million project drew criticism from lawmakers and even some members of Eisenhower's family. The controversy was on display at a congressional hearing on the project last month, where a Utah representative said he'd like to reopen a design competition and scrap plans designed by architect Frank Gehry.
Lacy said he was looking forward to hearing from Reddel about the difficulties and the journey the plans have taken since the memorial was first authorized by Congress in 1999. The talk will be in an interview format with Lacy asking the questions, as with most Dole Institute events, and he said his rough plan was for half the talk to address Eisenhower's legacy and half to cover the memorial effort.
And though that effort has made headlines in Washington, Lacy said local residents might have a lot to learn.
"My guess is that a lot of Kansans don't even know that that commission exists," Lacy said.
Eisenhower was a hero of the Dole Lecture and Dole Institute's namesake, former Sen. Bob Dole, Lacy said. And they're linked by many characteristics: They both served in World War II, they're both from Kansas and they both were major political figures during the 20th century.
"The connections between Sen. Dole and President Eisenhower are just so profound," Lacy said.
Some of the Dole Institute's most popular programs have focused on history, Lacy said, including the presidential history talks by former institute director Richard Norton Smith. In his series in 2011, Smith named Eisenhower as one of four presidents on his "20th Century Mount Rushmore," along with Ronald Reagan, Franklin D. Roosevelt and Woodrow Wilson.
"We just thought all of that added together very, very nicely," Lacy said.
Copyright 2018 The Lawrence Journal-World. All rights reserved. This material may not be published, broadcast, rewritten or redistributed. We strive to uphold our values for every story published.