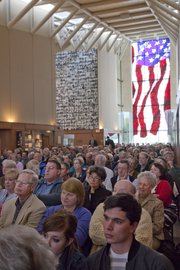 Pulitzer Prize-winning journalist Bob Woodward just couldn't help himself. He's a reporter, and he asks questions.
And after just a couple of minutes of being interviewed by moderator and Dole Institute of Politics Director Bill Lacy in front of a packed Dole Institute Sunday, Woodward was grilling the veteran political strategist.
"I noticed how that got turned around pretty quickly," Lacy said after being peppered with whys and whats by Woodward.
Lacy helped get Woodward back on track, and what followed was a political junkie's dream.
For more than an hour, Woodward, now an associate editor for the Washington Post, entertained the crowd, armed with 40 years worth of anecdotes from his front-row view of American politics.
Woodward, of course, talked about his work with fellow Washington Post reporter Carl Bernstein uncovering the Watergate scandal that won the 1973 Pulitzer and was the basis for the movie "All The President's Men." But he also hit on current politics — everything from President Barack Obama's chances of being re-elected to the capture of Osama bin Laden.
Woodward, the author of 16 best-selling nonfiction books, also gave some insight into the inner workings and early start of a man often cited as one of the best investigative reporters in American history. When asked how he first became interested in journalism, Woodward said it all began when, as a kid, he worked as a janitor for his father's law firm. After hours, the young Woodward's interest in secrets was piqued as he snooped around the legal files in between his cleaning duties.
"Everyone has a secret," Woodward said. "It's usually in the lawyer's file."
In between quips about his decades of muckraking experience and interactions with the upper echelons of American politics, Woodward detailed his work on books about President George W. Bush as well as his most recent book, "Obama's Wars," about the current president. From extensive in-depth interviews, Woodward painted complex pictures of both presidents, the decisions they make and how they'll be viewed by history.
Less complex was Woodward's explanation of his ability to gain the trust of sources that's enabled him to find so many secrets over the years.
"Let's face it. People like to talk," he said.
Copyright 2018 The Lawrence Journal-World. All rights reserved. This material may not be published, broadcast, rewritten or redistributed. We strive to uphold our values for every story published.