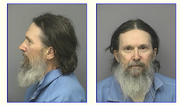 A former Ottawa man, convicted in 1981 of murdering his 5-month-old stepdaughter, is one of 21 Kansas inmates eligible for parole in May.
Thomas K. Collins, now 59, confessed to beating his stepdaughter to death in April 1980 in Franklin County. Collins pleaded not guilty by reason of insanity, but was convicted by a jury of second-degree murder.
Under now-defunct Kansas sentencing laws, Collins was sentenced to 15 years to life on the conviction, and he has been eligible for parole several times.
The public comment sessions for Collins and the other 20 offenders are:
• 10 a.m. to 12 p.m. on April 22, City Hall, One McDowell Plaza, Kansas City, Kan.
• 11 a.m. to 1 p.m. on April 24, Finney State Office Building, Wichita.
• 8:30 a.m. to 10:30 a.m. on April 26, Landon State Office Building, Topeka.
For a full list of inmates eligible for parole in April, visit http://1.usa.gov/14LnQDV
Copyright 2018 The Lawrence Journal-World. All rights reserved. This material may not be published, broadcast, rewritten or redistributed. We strive to uphold our values for every story published.