"…the thrill of victory and the agony of defeat."
I grew up hearing that phrase during the introduction to ABC's old show "Wide World of Sports." In competitions, somebody always wins and somebody always loses, and a photographer documents both.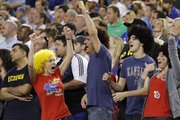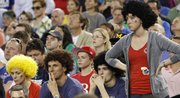 Before photographing the Kansas University men's basketball NCAA tournament game against Michigan last month, there was no Ouija board to predict the outcome. As staff photographer Nick Krug and I prepared to photograph the athletes on the court who would determine the final score, we also had an eye on the crowd.
The faces and reactions of fans are often a good indicator of how a game is going, and it adds a different visual representation of the game. After I took my photo position at one end of the court, I searched the crowd of 40,000 for possible interesting subjects. My best option was a nearby group of four KU supporters, all wearing wigs that mimicked Kevin Young's Afro hair style. Now I just had to hope they were good at emoting.
It turned out to be pretty easy. KU held a lead through most of the game, and I had ample photo opportunities to catch my "wigs-gone-wild" fans celebrating. But suddenly Michigan narrowed the lead and then took the game into overtime. Now it was critical to capture these same fans displaying distress.
I swung my camera back and forth between the panicked fans and the hectic and erratic action on the court. In only a few short minutes, the KU fans lost their cheer and the Jayhawks lost the game. The photos of celebration became worthless.
Although photographs of sad people are usually less interesting than those of happy people, Nick and I did publish a few. I've included two contrasting photos to show the "what is" and the "what if" visual reminders of the thrill of victory and the agony of defeat.
Copyright 2018 The Lawrence Journal-World. All rights reserved. This material may not be published, broadcast, rewritten or redistributed. We strive to uphold our values for every story published.