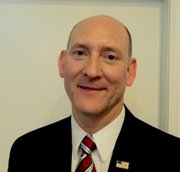 An Overland Park Police detective and chairman of the Franklin County Republican Party was nominated Thursday evening to replace former Franklin County Sheriff Jeff Curry, who recently resigned amid criminal charges.
Jeff Richards, also an Ottawa City Councilman, won the vote at a special convention held in Ottawa.
Richards defeated Ottawa Police Captain Randy Allen, the only other person nominated at the convention, which was attended by about 100 area residents.
Richards, a U.S. Air Force veteran, detailed his extensive law enforcement career during a brief speech. He also addressed questions about how best to win back the public's trust following Curry's departure.
"When you treat the public right, good news spreads," Richards said.
Curry officially resigned earlier this week after allegations that he tipped off former Franklin County Attorney Heather Jones that she was the subject of a drug investigation. Curry then lied to investigators by denying he had been involved in a sexual affair with Jones.
Franklin County Deputy Jerrod Fredricks is also charged with lying to investigators. He has agreed to resign his position.
On Monday Curry entered into a diversion program, and the charges against him will be dropped after one year if he complies with the court-supervised program, which is similar to probation. Curry also agreed to relinquish his state law enforcement certification, as did Fredricks.
The nomination will now be sent to the Gov. Sam Brownback, who is expected to accept the nomination and officially appoint Richards. Under Kansas law, Richards will then serve as sheriff until the next general election in November 2014.
Franklin County Undersheriff Steve Lunger serves as sheriff until Richards officially takes over.
Copyright 2018 The Lawrence Journal-World. All rights reserved. This material may not be published, broadcast, rewritten or redistributed. We strive to uphold our values for every story published.