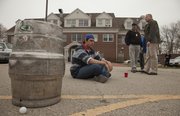 With red plastic cups, beer pong and loud music, dozens of rowdy college students rocked out Wednesday afternoon at Sigma Alpha Epsilon near the Kansas University campus.
Then the cops came—breaking up fights, checking I.D.'s, and calming down the rowdy partygoers.
If It all seemed a little too rambunctious for a midweek, midday bash, it was. But that was by design, as law enforcement officers from across the state converged on the fraternity house as part of an all-day training exercise on how to safely break up and handle underage drinking parties.
The training, funded by a grant and organized by the local substance-abuse prevention and treatment organization DCCCA, included more than three dozen police officers — including several from the KU Department of Public Safety — who practiced handling a variety of scenarios at the mock party.
And the volunteer SAE members certainly had their fun when directed to act wild and crazy for the training session.
In one exercise, a student buried his head and broke into tears, ranting and raving about potentially being expelled. Another refused to give an officer an I.D., all the while telling the cop to be nicer, as he was "a guest in our house."
"It's supposed to simulate a real-life party," said Scott Friedlein, a retired police officer with the Pacific Institute for Research and Development who conducted the training.
Nothing was off limits, as the student-actors hid partygoers in trunks, ditched bags of fake marijuana and threatened officers. Basically, they had a lot of fun.
"It was a really enjoyable experience," said Eli Birzer, SAE president, who helped organize the fraternity volunteers.
The training is vital for police, Friedlein said, because in some cases, officers can cause more harm than good. For example, Friedlein said, when police show up to a party scene with lights flashing, that simply causes underage drinkers to scatter, and possibly get into vehicles and drive off drunk.
"This really changes that dynamic," he said. "When they're going (leaving a party) they're going in a safe environment. We don't have to worry about DUIs, we don't have to worry about over-intoxication."
Copyright 2018 The Lawrence Journal-World. All rights reserved. This material may not be published, broadcast, rewritten or redistributed. We strive to uphold our values for every story published.