News, et cetera, from schools in and around Douglas County: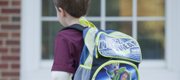 Subscribe to the email edition of First Bell and we'll deliver you the latest local education news and notes every weekday at noon.
• I've mentioned these two events here before, but here's another reminder:
— At 7 p.m. today, the Lawrence Arts Center, 940 N.H., is hosting a screening of the documentary "American Teacher" and a discussion afterward. The discussion panel will include Superintendent Rick Doll and Liberty Memorial Central Middle School teacher Michel Loomis. The event is free.
— The Cordley PTA is having a carnival from 5:30 p.m. to 8 p.m. tomorrow at the school. Admission is $10 per family, and the proceeds go to the PTA. There will also be a wellness expo as part of the activities, plus The Merc has donated a children's bike for drawing.
• In another repost in-case-you-missed-it: Kids Voting is back for election day 2012 and looking for volunteers. The shifts are from 6:45 a.m. to 9 a.m., 2:45 p.m. to 5:30 p.m. and 5:30 p.m. to 7:45 p.m. Nov. 6, plus a short orientation on Nov. 1. Kids Voting provides and tabulates mock ballots for kids from kindergarten to 17-year-olds as a way to instill civic habits.
• Veritas had a day of service Wednesday. Third- and fourth-graders packed lunches for the shelter, seventh- and eighth-graders did yardwork at Hidden Valley Girl Scout Camp, and the high schoolers on and near campus.
Check out Journal-World photographer Nick Krug's video of the event.
• Know anything that I need to learn? Send news tips, comments or questions to acgarrison@ljworld.com or call 832-6314.
Copyright 2018 The Lawrence Journal-World. All rights reserved. This material may not be published, broadcast, rewritten or redistributed. We strive to uphold our values for every story published.