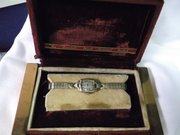 Lawrence police are trying to reunite an antique watch that was recovered following a recent burglary arrest with its rightful owner.
"It appears something very valuable to the owner," said Lawrence Police Sgt. Trent McKinley. "However, we are having great difficulty matching it to something reported stolen on one of our police reports."
The silver watch was recovered in a maroon-colored square case.
McKinley said it's possible the watch was stolen outside of the Lawrence area.
Anyone with information about the watch is encouraged to contact officer Jamie Lawson at 830-7430, or by email at Lawson@lkpd.org.
Copyright 2018 The Lawrence Journal-World. All rights reserved. This material may not be published, broadcast, rewritten or redistributed. We strive to uphold our values for every story published.