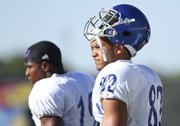 A lot has been made about Kansas University wide receiver Andrew Turzilli's 100-yard game in last week's loss to TCU.
Some have called it a break-through performance. Others have tempered expectations but hope his three-catch, 100-yard outing was a sign of things to come. And still others have anointed Turzilli as the missing piece in KU's offense, choosing not to put too much pressure on him but, at the same time, openly discussing the importance of offering quarterback Dayne Crist a reliable vertical threat with which to stretch the field.
Turzilli has heard it all, from all kinds of places, but the one area he's most concerned about is the one that has helped elevate him from unknown to untapped in a short time.
"Obviously, any receiver wants to be the No. 1 guy, the go-to guy," Turzilli said. "That's the plan for me, and, of course, I think I have the potential to do that. It's gonna take a lot of work, a lot of long nights, but I'm willing to do those things."
While the rest of the script is yet to be written for Turzilli as a college football player, his increased confidence and production have inspired Weis to promote Turzilli from a player with potential to a starter for today's 2:30 p.m. kickoff at Northern Illinois.
"We've actually been trying to push Andrew into this position since the springtime," Weis said, "because some of those things you saw in the game the other day, we've been seeing all along."
Asked about his change in attitude, Turzilli's response painted the picture of a humble player who no longer had reservations about his place on the team.
"I've done what I've been asked to do," he said. "I got an opportunity, and I just went with it."
With his big frame, long limbs and fast feet, Turzilli certainly looks the part. He lists NFL standouts Randy Moss and A.J. Green as his favorite receivers, not just for what they do on highlight films but more for what they've meant to him as distant mentors.
Turzilli likes Moss and Green because they have similar bodies and demeanors. In fact, Turzilli said he had Moss' trademark hand-raise down. The move, which Moss made famous, is used to let the quarterback know when a receiver feels he has his man beat. But Turzilli has made sure to keep it under wraps at KU.
"They don't like when we throw the hand up," he said. "They really don't."
Turzilli's ability has never been the problem, Weis said. It's his mentality that held him back.
"You have to be willing to take an older guy's job," Weis said. "And sometimes people don't understand that. You (can't) say, 'Well, he's a senior, when he's gone, then it will be mine.' You have to be willing to go take it. He's started to challenge more and more. Instead of just settling in and being the No. 2 guy, he's competed to be the No. 1 guy, and he's potentially a very good weapon."
In many ways, last week's performance mirrored the way Turzilli's KU career has played out. He finished with zero catches and zero targets in the first quarter and had just one catch in one attempt by halftime. Similarly, Turzilli red-shirted the 2010 season and played sparingly in 2011, finishing the season with 37 yards and a touchdown on three catches in just three games.
Turzilli finally has started to feel more comfortable.
"The thing with me was I had a tough time memorizing plays so I wasn't able to play a whole lot," he said. "But this offense, once I got that down, I was able to play with more confidence, play a little bit faster."
That certainly was the case in the third quarter last week, when the 6-foot-4, 193-pound wideout was targeted three times and made one reception. Turzilli had five passes thrown his way in the fourth quarter and managed to catch one.
Whether his career follows that path and Turzilli becomes a regular contributor in the Jayhawks' passing game remains to be seen. But there are plenty on this team who believe that will happen.
"He is a quiet guy by nature," Crist said, "but a definite competitor. You can see it in the way he practices and plays, but I think he knows that he belongs, and I think Saturday solidified that a little bit."
On a team whose most experienced wideouts carry smaller builds, Turzilli's length gives Weis a new option in the passing game. It showed against TCU, as most of the balls intended for Turzilli were shots down the field.
"It's a big advantage," Crist said. "I think it adds a great deal of versatility. Any time you have a big body in there, that is something that will always help a quarterback."
Weis agreed, but broke it down into even simpler terms.
"There is a comfort level throwing to a bigger guy," he said. "But the most important thing is you want guys that can get open."
That's where Turzilli wants to take his game. It's one thing to see his name listed as a starter on the latest depth chart, but it's another to keep it there.
"I'd just like to become a little more of a physical receiver, come across the middle, catch the tough passes, stuff like that," he said. "I'd just like to become a more complete receiver, a No. 1 guy."
Copyright 2018 The Lawrence Journal-World. All rights reserved. This material may not be published, broadcast, rewritten or redistributed. We strive to uphold our values for every story published.