Four Lawrence high-school seniors were honored Friday as "student champions" at the Lawrence Schools Foundation's annual benefit breakfast.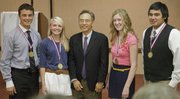 The champions are Emily McEntire and Francisco Esparza from Lawrence High School, and Alexandra Wendt and Antonio Schoneich from Free State High School.
They were nominated by their teachers, and Supt. Rick Doll presented each a medal and spoke about their attributes. He said that McEntire planned to become an oncologist and so was especially happy to hear the event's keynote speaker, Larry Kwak, a 1977 Lawrence High graduate and cancer researcher.
Free State chemistry teacher Ann Foster called Esparza, who plans to join the Marine Corps after graduating early in December, "wise and mature beyond his years," Doll said.
Doll listed a number of interests for Wendt, and said she's looking for a publisher of her young-adult novel, which she began in the eighth grade. Schoneich plans to study aerospace engineering and got a leg up with an award-winning trebuchet design at last year's Kansas University engineering expo.
Copyright 2018 The Lawrence Journal-World. All rights reserved. This material may not be published, broadcast, rewritten or redistributed. We strive to uphold our values for every story published.