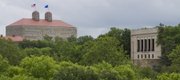 Subscribe to the email edition of Heard on the Hill and we'll deliver you the latest KU news and notes every weekday at noon.
Your daily dose of news, notes and links from around Kansas University.
• Among the items stewing right now in the legislative pot of KU's Student Senate is something designed to catch some attention. It's a resolution urging the university to create an option for students to minor in Spanish — and provide the Spanish and Portuguese department with the resources to do so.
KU Student Body Vice President Brandon Woodard mentioned his hopes to advocate for a Spanish minor to the Journal-World following Student Senate elections in April.
The proposed resolution says that the option of a Spanish minor could help students majoring in other areas prepare to communicate with Spanish speakers and help beef up their resumés come job-seeking time. It also says that KU is the only university in the Big 12 Conference and among the Kansas Board of Regents institutions that doesn't offer such a program.
The bill was set to be discussed by committees Wednesday night, and Woodard told me he expects it to be easily approved by the Senate on Wednesday, Sept. 26.
• A story in our KU Edition this year described the annual Stop Day walking campus tour provided by retired French professor Ted Johnson, featuring "Socratic dialogues," tidbits about little-seen objects and the Greek and Latin roots of commonly spoken words on campus.
If you've never made it on the Stop Day tour, you'll have a chance to catch one tomorrow — provided you're an early riser, or at least willing to be one for one day.
Johnson will lead a tour from 5 a.m. to 7 a.m. Friday to mark the Autumnal Equinox. This version of the tour will concentrate on how various campus landmarks align with the stars and the sun when the equinox rolls around. For instance, shortly after 7 a.m. on the equinox you can expect the sun to shine on two manhole covers at the intersection of Jayhawk Boulevard and 14th Street, creating the illusion of three "burnished and blazing golden disks," with one appearing to rise above the horizon, according to a promotional sheet for the event.
If you're unable to rise for the ultra-early tour, Johnson will conduct a brief encore tour at 10 a.m. Both tours will gather at that intersection of Jayhawk Boulevard and 14th Street.
Also noted on the promotional sheet is something I recall my kindergarten teacher telling me repeatedly on the day of a solar eclipse: Do not look directly at the sun.
• Another event to consider: Tonight, a visiting professor from Princeton University will give the first of two public lectures this week that combine the areas of religion and African-American studies.
Eddie Glaude Jr. will speak on "The Crisis of Black Leadership" at 7:30 p.m. tonight in the Big 12 Room at the Kansas Union. His second talk, "The Role of the Black Church in the Age of Obama," will be 7 p.m. Saturday at Ninth Street Missionary Baptist Church, 847 Ohio in Lawrence.
Glaude is here as KU's 2012 Theologian in Residence and Visiting Scholar of Religion, a program sponsored by a host of offices and departments at KU as well as a number of Lawrence churches.
• Thanks to all of you who dropped me a line after I introduced myself yesterday. I've still got tons to learn about what all of KU's many arms are doing (though I hope to learn these things more quickly than I learned to heed my kindergarten teacher's warnings about the sun), and if you've got something you think you can teach me, or any news tips to send my way, please don't be shy. Give me a shout at merickson@ljworld.com.
Copyright 2018 The Lawrence Journal-World. All rights reserved. This material may not be published, broadcast, rewritten or redistributed. We strive to uphold our values for every story published.