Kansas University students who voted in this week's Student Senate elections overwhelmingly chose Hannah Bolton, a junior from St. Libory, Neb., as their next student body president.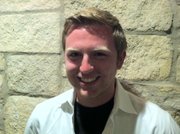 Bolton and her vice-presidential running mate, Brandon Woodard, a junior from Topeka, earned 84.5 percent of the vote. They hugged and celebrated at The Oread hotel as the totals were announced Thursday evening on KUJH-TV.
"There's a lot of emotion," Bolton said shortly after the victory, citing fatigue, excitement, happiness and anticipation for the year ahead.
While their coalition, KUnited, has 11 platform issues it hopes to address in the next school year, Bolton and Woodard had different top issues they wanted to address.
For Bolton, it was pushing for a policy that would increase grading consistency in classes in the same department. Woodard said he hoped to advocate for the establishment of a Spanish minor.
"It's such an amazing time for us to be in office," with the changes going on across the university, Bolton said.
Bolton and Woodard were running against Gus Bova, a nontraditional freshman from Lawrence, and Claire Kerwin, a senior from St. Louis, who represented a coalition that sprang from the Occupy KU movement.
Copyright 2018 The Lawrence Journal-World. All rights reserved. This material may not be published, broadcast, rewritten or redistributed. We strive to uphold our values for every story published.