News, et cetera, from schools in and around Douglas County: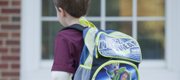 Subscribe to the email edition of First Bell and we'll deliver you the latest local education news and notes every weekday at noon.
• Four names will be added to the Lawrence High School Hall of Honor on Sept. 30. The Lawrence Lion Alumni group inducts Lawrence High graduates (and some from Liberty Memorial High School, which is now Liberty Memorial Central Middle School). This year's honorees are:
— Bart Ehrman, Ph.D., 1973 graduate and religious scholar
— Rev. Robert Flannery, 1965 graduate and national Ecumenical officer
— Idan Ginsburg, 1994 graduate and astronomer
— Andrew Godwin, Ph.D., 1977 graduate and cancer researcher
The induction ceremony is at 2 p.m. Sept. 30 in the rotunda of Lawrence High School, 1901 La.
Related document

Kansas state assessments ( .PDF )
• U.S. Education Secretary Arne Duncan spoke in Topeka Tuesday and the Kansas Department of Education released its statewide assessments data. As Scott Rothschild reported, the numbers are down. There's a lot of data in the report, which you can download by clicking on it to the left.
• Know anything that I need to learn? Send news tips, comments or questions to acgarrison@ljworld.com or call 832-6314.
Copyright 2018 The Lawrence Journal-World. All rights reserved. This material may not be published, broadcast, rewritten or redistributed. We strive to uphold our values for every story published.