What are you waiting for?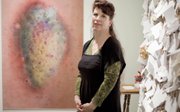 The travelling DropIN/PopUP Waiting Room Project is coming to Kansas University's Spencer Museum of Art and seeks to explore just that. More specifically, "What kind of healthcare system, access, facilities, and services do we desire or expect for ourselves? For others?"
The Spencer teamed with the Medical Policy Access and Care Triage, or M-PACT, Interface to offer the interactive art experience that explores both emotional and bureaucratic angles of health care and aims to stimulate critical thinking and dialogue. Artwork was created by Marguerite Perret, Bruce Scherting, Robin Lasser and James Stone with contributions from public health professionals and individuals.
The installation explores health care access and delivery through the context of the waiting room, the place — often anxious, frustrating and isolating — where people wait to enter the medical system, exhibit organizers say. The DropIN/PopUP Waiting Room Project turns this uncomfortable dynamic upside down by creating a space where community members' emotions and experiences are expressed, recorded, collected and represented.
At the PopUP Superhuman Voting Station, near the museum entrance, visitors can vote on health care issues and fill out questionnaires to express their thoughts. Data is transformed into an animated visualization projected in the DropIN Waiting Room installation, upstairs in the 20/21 Process Space Gallery.
The exhibit, which opens Saturday, runs until Jan. 27 at the museum, 1301 Miss.
Copyright 2018 The Lawrence Journal-World. All rights reserved. This material may not be published, broadcast, rewritten or redistributed. We strive to uphold our values for every story published.