News, et cetera, from schools in and around Douglas County: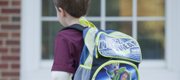 Subscribe to the email edition of First Bell and we'll deliver you the latest local education news and notes every weekday at noon.
• Free State High School parent Michelle Fales got in touch this week (without putting the two together, I had interviewed her son, Adam) to let me know what's up with Project Graduation.
She's looking for parents to get involved as organizers, and her next meeting will be at 7 p.m. Sept. 30 at the Free State library.
Project Graduation will happen the Wednesday of that graduation week, so May 22.
If you'd like more information about getting involved, you can email Fales at lmafales@aol.com.
• Perry-Lecompton schools will have their own brand of Constitution Day celebration next week. At 2 p.m. Monday, Lecompton Constitution Hall State Historic Site re-enactors Tim Rues and Paul Bahmaier will give a presentation at the high school for fifth- through 12th-graders.
Constitution Day is an observance of the signing of the federal constitution in 1787, but Lecompton schools celebrate their local history of the territorial capital.
• Talking of history, the Dole Institute of Politics announced Thursday that it's posting a large collection of materials in an online archive especially for National History Day school projects.
The website provides means to find primary sources, even if they're not online. (It will direct a student to how to find the document in person.) Topics include the Americans with Disabilities Act, the Clean Air Act, the Bosnia war, NAFTA, USAID and others addressed by Sen. Bob Dole.
• Know anything that I need to learn? Send news tips, comments or questions to acgarrison@ljworld.com or call 832-6314.
Copyright 2018 The Lawrence Journal-World. All rights reserved. This material may not be published, broadcast, rewritten or redistributed. We strive to uphold our values for every story published.