Tests may not be the only measure of success, but success on one particular test has landed several Lawrence teens a national honor — and perhaps a big scholarship package.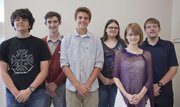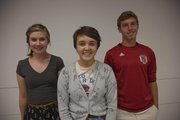 Nine Lawrence seniors have been named semifinalists in the National Merit Scholarship search: five from Free State High School, three from Lawrence High School and one from Bishop Seabury Academy. All will compete for about 8,300 scholarships given nationally to Merit Scholar winners. The semifinalist designation is based on scores on the PSAT, which the students took last year. The National Merit Scholarship Corp. now will consider their SAT scores, an application essay and reference letters to determine finalists. About 90 percent of the 16,000 semifinalists will be selected as finalists, and winners are selected from that pool, according to the corporation.
Juan Torres Gavosto, a Free State senior, also was named a National Hispanic Scholar. That designation is made by the College Board, the organization that distributes the PSAT, but it does not come with a monetary scholarship.
Still in the early days of their senior year, the 10 students said they're mostly undecided about where they will attend college. Almost all said they had an interest in going out of state, but "it all comes down to financial aid," as Katherine Guyot said.
The semifinalists are listed below by school, along with their top choices for colleges and majors.
Free State High School
• Andrei Elliott — undecided, mathematics or engineering
• Caitlin Erickson — Stanford, undecided
• Adam H. Fales — undecided, high school English teacher
• Katherine Guyot — undecided, journalism or publishing
• Alexander T. Heath — undecided, mathematics or biochemistry
Lawrence High School
• Julia Drahozal — Stanford, undecided
• Hazlett L. Henderson — Swarthmore, environmental studies
• Conner Murphy — Rensselaer Polytechnic Institute, aerospace engineering
Bishop Seabury Academy
• Martin J. Sicilian — undecided, economics and philosophy
Copyright 2018 The Lawrence Journal-World. All rights reserved. This material may not be published, broadcast, rewritten or redistributed. We strive to uphold our values for every story published.