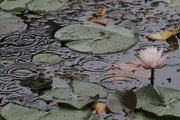 For this week's column, I wanted to describe how a photograph came about during a search for a feature image for the newspaper.
Because I'm always telling students that capturing successful photographs is easier when you have a specific subject, plan or goal in mind, I figured I'd relate how that works, or doesn't work, in practice.
Nothing is more frustrating and a waste of time than wandering around hoping a photograph will jump in front of your camera. On the other hand, setting out with an active imagination and a visual strategy can increase your likelihood of success and result in unexpected and rewarding photographs. So, on a recent overcast day that threatened rain, my intention was to seek out an appropriate weather photograph.
At the time, the newspaper had not published a photograph of Kansas University students back for fall semester, so I chose to head to campus.
I imagined locating a landscape against which to photograph passersby beneath colorful umbrellas in the rain. Several sidewalks pass by Potter Lake near the Campanile, so I walked to that area to consider a composition.
This was the only element I was certain of: the landscape. The other elements were imaginary. There was no rain, no umbrellas and no passersby. Bored and bummed, I decided to walk around the lake, which I noticed was crowded with water lilies. My goal changed: I would attempt to photograph something of the water lilies with passing students. But, again, my imagination preceded the visual evidence, and I soon realized putting those two elements together was not possible.
Meanwhile, I kept hearing wet plops of bullfrogs jumping into the water. More inspiration! What if I could get a bullfrog and a lily bloom in one photograph?
One particular frog had braved my lake-side stroll and remained motionless nearby, its head above water and pointed in the direction of a nearby water lily. Using a telephoto lens, I framed both and took several photographs. I had been worried the frog would jump at the sound of my camera shutter, but he didn't seem to mind. The lily, the frog and I remained still, and eventually there was little else I could do to improve the image.
In my mind, it was complete — until it started to sprinkle. Light drops of rain hit the water, spreading concentric ripples. What had been a calm, flat, gray surface was now active with alternating rings of contrasting light. I couldn't believe my luck. The frog didn't budge, and neither did I as I attempted to capture the best arrangement of rings in my composition.
What I imagined, and started out in search of, didn't happen, but it led me to something better. Now I wonder what it would have looked like to photograph the frog, the rain and an umbrella? But that would just be gilding the lily.
Copyright 2018 The Lawrence Journal-World. All rights reserved. This material may not be published, broadcast, rewritten or redistributed. We strive to uphold our values for every story published.