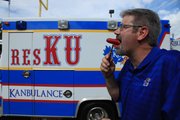 Certain foods are obvious choices at tailgates for obvious reasons.
Burgers and hotdogs are grill-able and portable. Store-bought veggie trays require no prep-work, and no clean-up. Same with bags of potato chips.
Although, as some of Kansas University's most dedicated tailgaters shared at Saturday's football home opener, that doesn't mean more original dishes are out of the question.
Sometimes they just require a few tweaks to get tailgate-ified.
Teriyaki steak and bacon spinners, crock-pot cheesy potatoes and even Indian butter chicken are just a few delicacies these tailgaters have adapted to pull off in the parking lot.
"We try to make it as easy as we can," said Wes Smith, one of the Lawrence residents who tailgates in an out-of-service emergency vehicle they painted in KU colors and dubbed the Kanbulance. "Everybody loves a cookout."
•••
Mark Gwaltney, Lawrence, has been tailgating — often with smoker in tow — for more than 10 years (on Saturday, he had barbecue ribs going by 8 a.m.).
Gwaltney usually provides the main dish and has everyone else bring sides to compliment it. For late games, there's plenty of time to smoke, he said. For early games, the group usually cooks breakfast instead.
At Thanksgiving time, Gwaltney has fried turkeys and assigned sides like mashed potatoes, gravy and green bean casserole.
Pam Pine, Lawrence, said she sticks with simple favorites, "nothing fancy."
One of her signatures is cheesy potatoes — which, after experimenting, she discovered can even be made in a crockpot, which works at a tailgate where there's a generator.
No generator? Just keep them hot on the grill.
•••
Kanbulance tailgate organizers meet before each season to plan weekly menus, at least as far out as they know game times.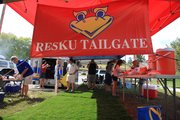 On Saturday, with kickoff at 6 p.m., it was burgers and brats with the usual sides. This week, they're planning a Mexican lunch buffet before the 2:30 p.m. game. On Sept. 15, an 11 a.m. game, breakfast burritos are on the menu.
The last game of the season, however, marks a tradition that sees some of the group's best cooking skills come out — the Kanbulance chili cookoff.
"It's a bit of a consensus from everyone who's there," said Paul Wallen of Lawrence, whose wife, Jana, is known for her chicken and sausage gumbo. "It's a lot of fun."
Kitcha Paranjothi, Lawrence, adapted his Indian butter chicken recipe to be tailgate friendly. Instead of serving the chicken over rice on a plate, he mixed the rice in so it only takes one pot to serve and a bowl and spoon to eat.
"I tried it last year, and it was a hit," he said.
Paranjothi does all the prep work at home, then re-heats the butter chicken in a soup pot on the grill.
•••
One of the fan favorites at Josh Flax's tailgates requires a deep-fat fryer (which also requires a generator) to prepare.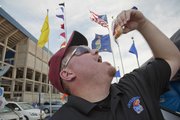 But then, they don't call themselves the Lewis/Flax and Friends All The Way Tailgate for nothing.
There's always a fryer. And a grill, a couch, TVs, and a smorgasbord of chips, dips, veggies, cookies and cheese puffs.
Flax, Lawrence, assembles his cream cheese poppers at home, packs them in a tupperware then fries them in the parking lot. The poppers always go fast, though not every frying attempt has been such a hit.
"They tried frying some oatmeal cookies and a lot of candy bars and stuff a couple years ago," Flax said. "That didn't work out so well. We don't have that down."
All The Way Tailgate also serves chili when it's cold, and sometimes walking tacos (with taco meat sauteed on the grill, then spooned into individual-sized bags of corn chips).
Rebecca Marquez, Lawrence, said one goal is avoiding complications of plates and full sets of silverware for everyone.
One of Marquez's favorite recipes was adapted from husband Joe Lewis' mother, who has been making teriyaki bacon steak for years. Marquez and Lewis pared down the portions to a size that can be grilled on skewers and that people can eat with their hands.
"Finger foods are always good — something people can just grab," Marquez said. "It's like tailgate tapas."
Spice up your tailgate with these fan favorites
There's no reason you can't support the Jayhawks and eat well while you're at it — even in a parking lot. Some of Kansas University's most avid football tailgaters share a few of their most popular recipes.
Cowboy Caviar
3 cans black-eyed peas
1 can white hominy
2 cups green pepper, diced
1 red pepper, diced
3 green onions, diced
2 small tomatoes, diced
2 cans chopped green chiles
1 tablespoon parsley
1 tablespoon garlic powder
2 cups Italian dressing
Stir together, chill, and serve with tortilla chips. Can add shredded cheese if desired.
— Recipe from Pam Pine
Fruit Dip
8 ounces cream cheese, softened
1/2 cup marshmallow cream
2 cups whipping cream
1/4 cup unsweetened pineapple juice
Mix together, serve with fresh fruit.
— Recipe from Pam Pine
Cheesy Potatoes
To make these in a crock-pot, double the recipe, then layer in crock pot. Add more cheese if necessary.
1 bag hashbrowns
4 tablespoons butter
1 cup sour cream
1 can cream of chicken soup
2 packages shredded cheddar cheese
Preheat oven to 350F. Layer in casserole dish and bake 1 hour.
— Recipe from Pam Pine
Tailgate Poppers
For variations on this snack, switch the jalepenos and bacon bits out for other flavors. Josh Flax's favorites include buffalo chicken, cheeseburger or chicken bacon ranch.
1 package wonton shells
2 8-ounce packages cream cheese, softened
6 jalepenos, boiled whole then minced
1 cup shredded colby jack cheese
Bacon bits to taste
Spicy garlic seasoning
Mix all ingredients and spoon into wonton shells. Fold shells into triangles and use a bit of water to seal edges.
Place poppers in a tupperware, sprinkling with flour so they don't stick to each other.
Once at the tailgate, deep fry until golden.
— Recipe from Josh Flax
Mama's Teriyaki Bacon Steak
1 2-pound top sirloin steak
2 packages bacon (choose quality bacon thick enough that it won't fall apart, but not so thick it won't crisp when cooked)
Teriyaki sauce
Slice steak into long, thin, flat strips. Cut bacon slices in half.
To assemble, lay one slice steak on the counter. Place one slice bacon on top. Roll up like a cinnamon roll or pinwheel, then place on a skewer, piercing through each layer of steak and bacon. Repeat, loading each skewer with about 5 or 6 roll-ups.
Place in tupperware, top with teriyaki sauce and marinate overnight.
Once at the tailgate, grill roll-ups on skewers. Once done, slide off skewers and onto platter to serve.
— Recipe from Rebecca Marquez and Joe Lewis
Caramel Chocolate Chip Cookie Bars
1 box yellow cake mix
1/2 cup oil
2 eggs
1/2 cup butter
32 caramels
1 can sweetened condensed milk
2 cups chocolate chips
1 cup vanilla chips
Mix cake mix, oil and eggs. Once mixed, add chips. Press 3/4 of batter into greased 13x9x2-inch baking pan. Bake 350 degrees for 15 minutes and cool for 10 minutes.
In large sauce pan melt butter, caramels and milk until smooth. Pour caramel over the cooled cake mix. Drop the remaining dough over the top. Bake 25 to 30 more minutes. Once cooled, keep refrigerated.
— Recipe from Amy Lewis Sheler
Butter Chicken
Serves 4, but making extra is better — and even better the second day after flavors have set in.
Chicken:
6 skinless boneless chicken breasts, cut into 1-inch pieces
2 cups yogurt
2 teaspoons salt
3 teaspoons ginger paste (look for this and the garlic paste in tubes in the produce section at the grocery store)
3 teaspoons garlic paste
3 or more teaspoons tandoor masala
1 teaspoon pepper powder (can substitute pepper from a fine-grind pepper mill)
1 teaspoon chili powder, or to taste
Mix all ingredients and marinate at least 2 hours, or even better, overnight.
Gravy:
5 tablespoons butter
14 ounces pureed tomatoes
1/2 teaspoon salt
2 or more tablespoons methi leaves
1 pint cream or half-and-half
1/2 cup cashew or almond powder (can also buy nuts and grind in a food processor)
Sriracha sauce to taste
In a stock pot, cook chicken with all of marinade until cooked through.
For gravy, in another pan melt butter, add nut powder and cook until lightly browned. Add tomato puree, chili sauce, salt and methi leaves. Add cream or half-and-half to desired consistency.
Pour gravy into pot of the cooked chicken and add 2 more tablespoons of the methi leaves, stir. Serve over plain basmati rice. Or, for a stew-like dish, mix rice into pot with chicken.
— Recipe from Kitcha Paranjothi
Wes's Wild Game Chili
2 pounds ground venison or elk (It's OK if you didn't shoot it yourself)
1 pound fresh pork sausage (If you have wild hog, it's better!)
1 stick of butter
1 cup chopped onions
1 cup chopped green bell peppers
1 cup chopped red or orange peppers
5 garlic cloves crushed
1 6 ounce can tomato paste
1 cup chopped cilantro
1 tablespoon chili powder
1 teaspoon ground cumin
1 teaspoon ground coriander
1 teaspoon dried oregano
1 teaspoon cayenne pepper
1 (16-ounce) can chopped tomatoes
2 cans red kidney beans, rinsed and drained
2 cans great Northern beans, rinsed and drained
4 cups vegetable stock
Salt and pepper
In a large saucepan, melt the butter. Sauté the onions, peppers and garlic until caramelized. Add all the meat to the pan and cook until brown, stirring occasionally.
Remove from the pan and set aside. Add the tomato paste and 2 cups vegetable stock to the pan. Bring the mixture to a boil. Stir in the dry spices and chopped tomatoes. Season with salt and pepper to taste. Simmer uncovered for 30 minutes, or until the sauce gets thick. Pour mixture in a slow-cooker, or simmer in the same pot very low. Add the meat mix and beans to the pot and cook slowly for 2-4 hours, stirring as needed. You will need more liquid, so just add more vegetable stock or water.
Serve hot with cornbread or saltine crackers.
— Recipe from Wes Smith
— Features reporter Sara Shepherd can be reached at 832-7187. Follow her at Twitter.com/KCSSara.
Copyright 2018 The Lawrence Journal-World. All rights reserved. This material may not be published, broadcast, rewritten or redistributed. We strive to uphold our values for every story published.