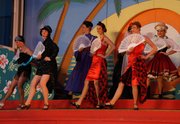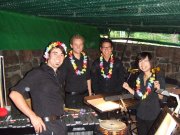 For an American college student, performing operas in Germany comes with certain challenges.
Namely, asking fellow chorus members — the native ones — to translate. If not the words, then at least the stage directions.
"Having to laugh at German jokes that we didn't understand was the funny part," says Madison Mikenna, a Kansas University graduate student in opera from Birmingham, Mich. "It was an adventure."
Mikenna was one of 33 KU vocal and instrumental music students who spent June 15 to August 20 in Eutin, Germany, which is one of Lawrence's sister cities, rehearsing and performing alongside international professionals at the Eutin Festival.
This was the second summer KU students, chosen by audition, participated.
"We're hoping that this becomes annual," says Robert Walzel, dean of the School of Music, who accompanied students to Eutin. "Certainly, if we make it three years in a row, then we've set that pattern."
Students rehearsed and performed alongside professional and community musicians, mostly Germans, in two orchestral concerts, two chamber concerts and three operas — "Nabucco," "Die Blume von Hawaii" ("The Flower of Hawaii") and "L'Elisir d'amore" ("The Elixir of Love").
"They were busy making music all the way through," Walzel says.
Patrick Timmis, a Fort Wayne, Ind., percussionist in KU's graduate program, says his only previous experience performing with professionals had been gigs "here and there." He says the festival — where he participated in all seven shows plus an additional percussion show — was a valuable opportunity.
"This is the first time that it wasn't a gig," he says. "We were all a part of the same ensemble and being able to play along with them for the duration of the summer."
Mikenna had roles in "Nabucco," as a chorus member, and "Die Blume von Hawaii," as an American tourist. For her, like Timmis, the program provided her first trip to Europe and an internship-like atmosphere to build her performance experience.
"It looks really good on résumés for us to have experience with summer programs and festivals," Mikenna says.
The festival paid for the students' plane tickets, lodging in hostels and most meals, Walzel says. The performances, and the American students in them, proved popular among the German locals and other Europeans who spend summer holidays in the area. He says the Germans seemed eager to support young people.
"Introducing them to their country and aspects of culture they haven't seen is something they're very proud of, and something they enjoy," Walzel says.
Timmis says some of the professional musicians even invited students into their homes, cooked for them and showed them sights in the Eutin area. He says he also appreciated the Europeans' love for music, which seemed to contrast the United States, where pop music tends to reign and orchestras are dying out.
"Over there, just seeing the amount of support and the amount of interest in what we were doing was really eye opening, and it was encouraging to see people who are still interested and still excited about what we do," Timmis says.
Six performances of "Nabucco" were originally scheduled, but organizers added a seventh because the show kept selling out. A photograph of a costumed Mikenna alongside another KU student rehearsing "Die Blume von Hawaii" was even blown up and used in advertisements for performances.
"They plastered our faces all over the town on these giant posters," Mikenna says. "There was a couple times when I got recognized out on the town."
Copyright 2018 The Lawrence Journal-World. All rights reserved. This material may not be published, broadcast, rewritten or redistributed. We strive to uphold our values for every story published.