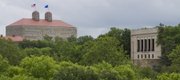 Subscribe to the email edition of Heard on the Hill and we'll deliver you the latest KU news and notes every weekday at noon.
Your daily dose of news, notes and links from around Kansas University.
• It's just about Halloween time, and though I've never really understood it, a lot of folks out there like to mark the occasion by scaring themselves with scary stories in books, movies, TV or other media.
The New York Times took some inspiration from the latest "Paranormal Activity" movie (titled, I believe, "Paranormal Activity 7: Ghosts Down Under") and looked into one particular scary-story subgenre: that of the "haunted house."
And to explore that topic, the Times talked with John Tibbetts, an associate professor of film and media studies at KU and the author of a book released last year that traces Gothic influences in novels, film and other forms of entertainment.
Tibbetts says that Americans are fascinated with the idea of a "haunted house" because it skews our normal idea of our home as our "sanctuary."
Haunted-house stories can sometimes reflect our doubts about the practice of homeownership, Tibbetts says: "It's this idea that the dream to own a house gets you in trouble."
That is EXACTLY why I am not a homeowner. Or at least that's my story.
• KU's Center for East Asian Studies will take part tonight in a nationwide virtual town-hall meeting of sorts involving the U.S. ambassador to China, Gary Locke.
At 7 p.m. today in the Alderson Room at the Kansas Union, folks can watch Locke, a former U.S. commerce secretary and governor of Washington, via webcast as he provides an address and answers questions live. It will go out to a total of 60 venues across the country.
The whole thing is sponsored by the National Committee on United States-China Relations.
Each of the venues participating will also feature a live address from a China specialist following the webcast with Locke, and KU's will be Christine Boyle, a postdoctoral fellow at the University of North Carolina.
All of it is free and open to the public.
• You may recall that the Murphy Art and Architecture Library in KU's Spencer Museum of Art was closed for about a month and a half after a water-line break flooded its floor in August. A team had to sweep into action to salvage as many materials as it could. About 10 percent of the library's 170,000 volumes were damaged.
Now the library will tell the story of how that team came to the rescue and how the library's staff has been working since then to keep things working. That will happen in an event at noon tomorrow in the Jayhawk Room at the Kansas Union.
In an event provided by the KU museum studies program, a panel of folks involved will retell how the library's conservation team made sure the damage was minimized. It's called "SOAKED: Disaster Response in the Murphy Art and Architecture Library."
• One final note: if you're a person who finds him- or herself on the KU campus during the day, and you would like to vote in next week's election but might like to save yourself the election-day hassle and polling lines, you've got a chance to vote in advance this week.
Douglas County will offer advanced voting from 10 a.m. to 7 p.m. Monday through Thursday in the Drive Room at the Burge Union. It's open to any Douglas County voter, no matter your regular polling place.
You can find a list of other advance voting sites around the county right here.
• Anyone who sends me a KU news tip at merickson@ljworld.com during Halloween week is eligible to win a trip to the movies with me during Halloween season next year, when we'll go to see "Paranormal Activity 8: Ghosts in Space."
Copyright 2018 The Lawrence Journal-World. All rights reserved. This material may not be published, broadcast, rewritten or redistributed. We strive to uphold our values for every story published.