Kansas University officials said the Spencer Museum of Art will remain closed through Monday after a water line broke early Wednesday on Mississippi Street and leaked water into the bottom two floors of the building.
Photo Gallery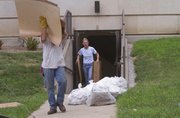 Spencer Art Museum closed after water line break
A majority of the damage was in the museum's bottom floor, which houses the Murphy Art and Architecture Library, but the museum's artwork, which is on higher floors, was intact, said Joe Monaco, a KU spokesman. Monaco said Thursday that water damaged between 15,000 and 20,000 books, which is roughly 10 percent of the library's 170,000 volumes.
He said about half of the items have been boxed and loaded into a freeze unit inside a semitrailer parked outside the museum.
The remaining half have been boxed and will be loaded onto a second trailer Thursday afternoon. Both trailers will be taken to a Chicago facility where they will be vacuum-freeze dried, evaluated and treated, Monaco said.
About 90 volunteer students and staff members Wednesday night and Thursday morning helped box and load the volumes.
"They were outstanding, and they're a huge reason we were able to get all the volumes boxed and loaded so quickly," he said.
KU officials have not yet estimated a damage amount for the books or the museum itself. The museum will remain closed through Monday. The Spencer gallery is always closed on Mondays, and Monaco said KU planned to announce Monday afternoon when the museum will reopen. The library is closed indefinitely.
Copyright 2017 The Lawrence Journal-World. All rights reserved. This material may not be published, broadcast, rewritten or redistributed. We strive to uphold our values for every story published.