Utilities crews are busy again as dry conditions have led to several water main and water line breaks, including one that flooded a lower floor of Kansas University's Spencer Museum of Art on Wednesday morning.
"It's picking back up again because of the weather, soil conditions and drought that's going on," said Jeanette Klamm, a city utilities programs manager.
Photo Gallery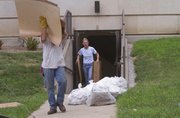 Spencer Art Museum closed after water line break
Some rain last week helped ease conditions that led to dry soil and broken pipes, but city and other local crews have had their hands full this week, with a major break Tuesday near 19th and Harper streets and the one on the KU campus on Mississippi Street behind Dyche Hall. Klamm said city crews on Wednesday repaired two other line breaks, including one on Hilltop Drive near Hillcrest School.
The Mississippi Street break, which occurred at 2 a.m., caused water to seep into two bottom floors of the Spencer Museum, said Joe Monaco, a KU spokesman, and KU closed the museum Wednesday.
Water that flooded into the street caused a bulk of the damage on the building's bottom floor, which houses the Murphy Art and Architecture Library, Monaco said. A smaller amount of water entered the next floor up, which is home to workshops, classrooms and a photo studio, but no major equipment was damaged. The building's third and fourth floors, which house artwork, were not damaged, he said.
"All the artwork in the building is completely intact," he said.
Monaco said the museum would be closed again today, and KU officials would evaluate and decide whether to open Friday. The library in the museum's basement will remain closed the rest of the week, he said.
KU facilities workers were in the area trying to make repairs, and Mississippi Street was closed near Memorial Drive most of Wednesday.
Klamm said the soil condition was one factor in causing the breaks. The other is high demand on the system. With so little rainfall more people than usual are irrigating their lawns. "When you are pushing that much water through those pipes, if there's a weakness, it may cause that weakness to break," she said.
During the drought, the city has advised residents to use measures such as watering lawns in the late evening or night hours and to repair dripping faucets and leaking toilets to keep extra water from running.
"Just be mindful of where you are using your water and try to be as conserving as possible," Klamm said.
Copyright 2018 The Lawrence Journal-World. All rights reserved. This material may not be published, broadcast, rewritten or redistributed. We strive to uphold our values for every story published.