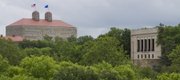 Subscribe to the email edition of Heard on the Hill and we'll deliver you the latest KU news and notes every weekday at noon.
Your daily dose of news, notes and links from around Kansas University.
• In our look at old KU homecoming traditions this past weekend, we mentioned that 1969 was the last time KU crowned a homecoming queen.
But that's not quite the end of the story, as at least one group still crowns homecoming royalty at KU.
The University Daily Kansan reported Monday on the Black Student Union's annual Homecoming Pageant, at which a queen and a king, as well as a prince and princess, are named.
Junior Sierra Franklin and senior Will Nelson are this year's queen and king.
The pageant tradition dates to the fateful year of 1969, an African and African-American studies associate professor explained before the event, according to the Kansan report. That's when the BSU, frustrated with a process that had never resulted in even a nomination for a black student, conducted its own crowning process for a homecoming queen.
• KU faculty will soon have a new annual honor to shoot for.
The Kansas Board of Regents will begin awarding a "Faculty of the Year" award to two faculty members at each of its institutions — one tenured member and one untenured.
KU's Faculty Senate gets to set the criteria for the award.
Andrew Torrance, a law professor who's serving as president of that body, said at a committee meeting Tuesday he'd like the honor to be something "holistic," to set it apart from other awards at KU that honor professors specifically for their research or for their teaching.
• With impressive speed, the Dole Institute of Politics announced Tuesday it has assembled a memorial exhibit about George McGovern, the former U.S. senator and Democratic presidential candidate who died Sunday at the age of 90.
The exhibit concentrates on McGovern's efforts to end hunger worldwide, with which received help from Bob Dole, his friend from across the aisle. McGovern received the institute's Dole Leadership Prize in 2004.
The exhibit is free and open through Nov. 15, 9 a.m. to 5 p.m. Monday through Saturday and noon to 5 p.m. Sunday. A tribute page including photos from the institute's archives is also available online.
• You can compete for Heard on the Hill's Tipster of the Year Award* if you send those tips to merickson@ljworld.com.
*Award does not actually exist.
Copyright 2017 The Lawrence Journal-World. All rights reserved. This material may not be published, broadcast, rewritten or redistributed. We strive to uphold our values for every story published.