Photo Gallery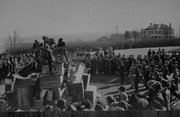 Homecoming: Jayhawk traditions and memories
As they have for decades, a parade and a football game will lie at the heart of Kansas University's homecoming celebration this week as it marks its 100th anniversary edition.
But a queen, a bonfire, famous musical or comedy acts and students dressed as hobos? Nowhere to be found.
Those are some of the former homecoming traditions that didn't last to see the event's 100th birthday. Some met their end amid public controversy, while others faded away more quietly.
One that met its demise more publicly was Hobo Day — something that went beyond the themed dress-up day its name suggests. The old tradition caught the attention of Kevin Armitage, then a graduate student pursuing his doctorate in history, as he was helping in 2000 with the launch of the KU History website.
"What initially attracted me was just seeing some photos," Armitage said.
Images of students from the 1920s and '30s dressed in tattered and torn clothing, some with knapsacks slung over their shoulders, sparked his historical instincts, he said.
Armitage, now an associate professor at Miami University in Oxford, Ohio, dug through old newspapers in the University Archives at Spencer Research Library. He found that the event's origins went back to the 1890s, when used-clothes buyers would come to campus for an annual convention. Students in need of beer money would come to sell their old duds, and eventually some decided to wear some of those clothes as part of a celebration.
By the 1920s, the Hobo Day became part of the annual homecoming festivities and included a massive pep rally for which afternoon classes were canceled. It was characterized by a wild fervor that Armitage said should change the mind of anyone who thinks rowdiness among college students is a purely modern-day phenomenon.
"There may be differences, but there was plenty of raucousness and too much drinking, etc., back in the good old days, as well," Armitage said.
During one Hobo Day, students broke into grocery trucks and began throwing food at each other, leading to a fistfight between one "hobo" student and a professor. A few years later, a group of law students sported formal wear on Hobo Day in defiance of the tradition, leading to another brawl.
"Things were a little wilder back then in some respects," said a laughing Jennifer Sanner, senior vice president for communications for the KU Alumni Association.
The University Senate ended Hobo Day in 1939, a move that the University Daily Kansan decried as "the first step toward a desecration of the sanctity of tradition."
A volatile year
Other traditions did continue, though another met its end in 1970: the annual crowning of a homecoming queen.
Candice Heavin Benn, a 1970 graduate who now lives in San Diego, was one of the three queen candidates in 1969, the final year KU observed the tradition.
When recalling the experience, she had to start with the tension and unrest that characterized the KU campus that school year, including the burning of the Kansas Union in April 1970.
"It was a very volatile year," Benn said.
Protests against the Vietnam War and pushing for civil rights dotted the campus, and the homecoming queen tradition was a focus — the Black Student Union pointed out that a black woman had never even been nominated to be queen.
That led to a parallel royalty process, during which the Black Student Union named its own queen. As the homecoming queen candidates rode in a convertible around Memorial Stadium at halftime of the football game, another car carried the BSU candidates — a segregated scene that Benn said is hard to fathom now, more than 40 years later.
"It's mind-boggling to me that that even took place," Benn said.
At that point, Benn said, queen candidates were nominated by residence halls and sororities — she represented McCollum Hall. A committee of faculty interviewed the candidates and narrowed them to a group of three before announcing a winner at the football game.
Despite the controversy, the traditional pageantry continued, including publicity photo shoots in Wichita, the Kansas City area and elsewhere.
"We essentially did just two weeks of touring around the state," Benn said.
A friend of hers requested a special leave from the Air Force Academy in Colorado to serve as her escort at the game. According to a 1994 Kansas Alumni article on the subject, senior Janet Merrick was crowned the final homecoming queen.
The following year, the homecoming committee announced the end of the homecoming queen, saying in a statement: "It seems inappropriate in a multicultural environment such as a university to select one or a group of young women to represent that community."
Traditions long gone
A number of other traditions have faded in and out of homecoming over the years, according to University Archives research conducted by this year's Homecoming Steering Committee during preparations for the centennial celebration. Even the parade was replaced by a talent show for a few years, starting in 1948, in order to cut costs. A bonfire and a homecoming dance met their end at some point.
Sanner said she'll sometimes hear visiting alumni recall the big-name musical and comedy guests who would perform during homecoming, often in Allen Fieldhouse.
Performers in the Fieldhouse included Louis Armstrong in 1967; Sonny and Cher in 1973; the Beach Boys in 1977; and Bob Hope twice, in 1971 and 1982.
Sanner guessed that the year-round performance-arts happenings around campus had made the homecoming performances less of a focus.
"We didn't have the Lied Center," Sanner said. "We didn't have the opportunities that we have now for lectures and entertainers and concerts."
The cost of A-list performers may have risen since those days, as well, she noted.
In 2004, KU brought comedian Bill Cosby to the Fieldhouse for a homecoming performance, with officials citing a desire to return to the big-ticket performances of the past. The total cost of the event was about $150,000, though officials said in a Journal-World story that ticket sales allowed the university to break even.
Today's KU homecoming is marked by plentiful events throughout the week designed to get lots of people involved, Sanner said, from students to visiting alumni to people around Lawrence.
In 1999, the Kansan reported that involvement in homecoming was at a record low, and only two universitywide events were on the calendar: the parade and football game.
A few years thereafter, the Alumni Association began to oversee homecoming — the latest in a number of groups to lead the events, Sanner said. This year's schedule calls for about four to five events each day, from today through Saturday.
"My sense is that there's much more variety and there are many more activities that engage students from all different walks, all different areas of campus," Sanner said.
One old tradition is making a comeback this year — a pep rally, which will follow the parade Friday evening at the Adams Alumni Center on campus. Homecoming committee chairman Matt Araiza said he hoped that tradition would stay in place for many years to come.
But even if it doesn't, if history is any guide, another tradition will step up to replace it.
Copyright 2018 The Lawrence Journal-World. All rights reserved. This material may not be published, broadcast, rewritten or redistributed. We strive to uphold our values for every story published.