• One of the interesting things about attending State Board of Education meetings is that you occasionally get to hear one of those "gee-whiz" presentations about some new technology that could revolutionize education. But one that was demonstrated Wednesday left me with a bag of mixed emotions.
The tool is called KWIET (pronounced "quiet"), which stands for the Kansas Writing Instruction and Evaluation Tool. As you might guess, it's a tool used to guide and evaluate writing assignments.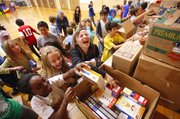 Basically, it's a computer-based, online tool that can manage any kind of writing assignment for any subject, at any grade level. Teachers create projects for students to complete. Students enter the information in a system that looks much like Microsoft Word. Teachers can then review the student's work, make comments or suggestions directly in the document, and grade the work based on whatever rules are being applied.
At first blush, that sounds like a very expensive substitute for paper and pencil. But one thing it provides is a standard, objective way of grading papers. Most of us have not-so-fond memories of teachers who were overly critical, or who graded by inconsistent and unpredictable standards. Standardization, in turn, frees up teachers and others to move away from standardized, multiple-choice questions and design tests that require a little more creativity and critical thinking.
Another feature KWIET provides is the ability to "lock out" other computer applications while the student is logged into the writing tool. No more copy-and-paste from other documents or websites. It may not make plagiarism impossible, but it'll be a lot more difficult.
Finally, though, KWIET provides the ability to do something most parents try to do when their child is in kindergarten or first grade, but which very few ever succeed at in later years: archiving everything your child writes through the course of their K-12 education.
Everything a student writes on the system ends up stored on servers at the Kansas University Center for Educational Testing and Evaluation, where the tool was developed.
And this is where run into the bag of mixed feelings.
Sure, I wish I would have saved everything my son wrote during his years in public school. Like every proud father, I believe everything he ever wrote is worthy of preservation.
On the other hand, I am eternally grateful that nobody ever saved the garbage I wrote back in seventh grade. I'm also glad there's no physical way — as far as I know — for anybody to retrieve that stuff. Just imagine how much more uncomfortable family reunions could get if anybody who remembers your ID number and password can instantly retrieve those essays you wrote that got you a D in English class.
Computer-based writing instruction is clearly on its way at every level. For many, it's already here. But with the advent of new technology that requires "keyboarding" instead of actual writing, one has to wonder what the future holds for the old craft of writing with a pen or pencil on a piece of paper.
That question wasn't lost on the State Board of Education. Ken Willard, board member from Hutchinson, showed that kind of wistful resignation that comes with late middle age when he talked about the almost-lost art of penmanship. In schools he has visited, Willard said, some teachers have even ceased teaching their students how to write in cursive.
Many students in Kansas are already using KWIET. And a number of districts plan to use it this spring when they administer the state writing assessment.
The Lawrence school district hasn't jumped on the bandwagon just yet. Terry McEwen, who manages testing and research in the district, says they're still weighing all the pros and cons, and one factor is how much training it will take to get teachers proficient on the system.
• Parents of graduating seniors in Lawrence are making plans for this year's Project Graduation, an annual drug- and alcohol-free party hosted by parents on graduation night. The next planning meeting for parents will be held at 7 p.m. Sunday, Nov. 4, at Free State High School.
For more information, email Diane Becker, Angie Evers or Michelle Fales.
Copyright 2018 The Lawrence Journal-World. All rights reserved. This material may not be published, broadcast, rewritten or redistributed. We strive to uphold our values for every story published.