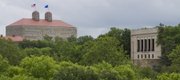 Subscribe to the email edition of Heard on the Hill and we'll deliver you the latest KU news and notes every weekday at noon.
Your daily dose of news, notes and links from around Kansas University.
• As you may have read yesterday, McCollum Hall, the behemoth of KU's Daisy Hill residence halls, may be on the way out.
A few people shared their thoughts on McCollum's possible demise with us on Twitter. They ranged from "good!" to "Pave paradise and put up a parking lot. I'll be sad to see it go! GREAT memories there!"
Indeed, that line from "Big Yellow Taxi" will prove true, as long as you consider McCollum "paradise." According to the plan KU submitted to the Kansas Board of Regents, McCollum's spot would be used for parking, while two new smaller halls would be opened elsewhere on Daisy Hill.
If this news brings any feelings, good or bad, bubbling to the surface for any other former McCollum residents out there, please, do share at merickson@ljworld.com.
• A KU journalism researcher's study of high school media classes popped up on the media blog Romenesko on Wednesday.
Peter Bobkowski, assistant professor of journalism, found that only one-third of more than 1,000 high schools surveyed offer any sort of online student media opportunities. He deemed that figure "not enough" — online media is a pretty big part of journalists' responsibilities these days, as you might surmise if you're reading this blog.
Overall, Bobkowski found that 96 percent of high schools offer some kind of student media. Those with no media tended to be poorer and to have higher populations of minority students.
• It was actually a big day for KU on Romenesko, as it also reported on the increasingly high-profile tension between The University Daily Kansan and the KU football program.
Since we addressed it last week, this whole thing has blown up to the point where there's little reason for me to say much more about it, so I'll just gather a few links here.
The latest chapter in the fracas arose when The Kansan reported on an interaction between its football reporter and a KU football communicator, during which she reportedly cautioned the reporter against asking questions at a press conference. For what it's worth, our own Matt Tait wrote that some blame likely lies on both sides and that there was no incident at a practice on Wednesday. CBS Sports and USA Today offered more extreme takes.
• A reminder: Economist Arthur Laffer, a champion of supply-side policy and a tax adviser for Gov. Sam Brownback, will speak today at the Kansas Union.
Laffer is set to speak about the U.S. economy and the federal budget, just hours before a vice presidential debate tonight that will surely address some of the same issues.
In case you can't make it, though, your faithful KU reporter will be there to cover it.
• Heard on the Hill is a "paradise" that will never be paved in favor of a parking lot, because it is not a physical entity, so that wouldn't make any sense. Keep it that way by sending your tips to merickson@ljworld.com
Copyright 2017 The Lawrence Journal-World. All rights reserved. This material may not be published, broadcast, rewritten or redistributed. We strive to uphold our values for every story published.