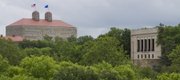 Subscribe to the email edition of Heard on the Hill and we'll deliver you the latest KU news and notes every weekday at noon.
Your daily dose of news, notes and links from around Kansas University.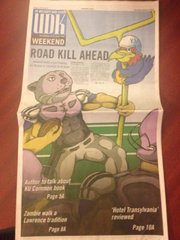 • Thursday's issue of The University Daily Kansan apparently caught the attention of KU football coach Charlie Weis, and his review was not positive.
From his @CoachWeisKansas Twitter account, the coach tweeted Thursday afternoon: "Team slammed by our own school newspaper. Amazing! No problem with opponents (sic) paper or local media. You deserve what you get! But, not home!"
A quick look through Thursday's paper, which previewed Saturday's football game against Kansas State, didn't reveal any of the actual written content to be particularly inflammatory. So Weis' comment was presumably directed at the illustration that occupies the entire front page, which depicts a herculean K-State Wildcat with rippling muscles, shaking around a pair of goalposts in an attempt to scare a small, frightened-looking Jayhawk, who is clinging to the posts for dear life while wearing a football helmet from around 1962. (K-State is heavily favored this weekend, if you weren't aware.)
A headline reads "ROAD KILL AHEAD." The story underneath, though, is hardly a "slam": It's a quite neutral article about how the team has practiced this week.
Weis followed up that tweet with a second one clarifying things, saying he actually "could care less" about the paper, but he felt an obligation to support his players.
The Twitter responses to the coach were largely derisive, though I saw a few that supported him.
Anyway, if I were to imagine being in the shoes of the UDK staffers on Thursday, I'd guess they felt a bit of journalistic outrage at the suggestion they shouldn't criticize the team, but also some excitement and amusement that the football coach was paying attention to them.
• We're just hours away from fall break time at KU, as there will be no classes Monday or Tuesday. As KU Info noted Thursday on Twitter, KU's fall break has existed only since 2001.
Indeed, a trek through the Journal-World's electronic archives reveals that the idea of a fall break was contemplated and ultimately approved in 1998 but could not take place until 2001 because the KU calendar had to be set in three-year cycles.
At that time, students and faculty described the long, harsh month of October as the "Dog Days" of the academic year. The new two-day break broke up what was an uninterrupted stretch of class from Labor Day until Thanksgiving.
One student involved in the discussions insisted fall break would not be "Spring Break II," but instead have a different flavor, with students resting up or catching up on work rather than perhaps jetting off to an island somewhere.
Another note from one of those stories: Until 1970, KU had a more traditional semester calendar, with the fall semester running from the middle of September to the middle of January.
A committee considered removing fall break in favor of a week-long Thanksgiving break while making some calendar changes that took effect last year. But fall break stayed, though it did move to give students a Monday and Tuesday off, rather than a Thursday-Friday combo.
• A story popped up on the Associated Press wire Thursday (you can read it here at the Washington Post) about scientists' discovery of a way to turn skin cells from mice into eggs able to produce babies.
Some scientists quoted said the discovery could lead to a way to help women who do not have working eggs or perhaps even render women's "reproductive clock" obsolete.
But David Albertini, a professor at the KU Medical Center who was also quoted in the article, was not as optimistic that the discovery would really translate into any advances for humans.
"I don't think there's a lot of clinical potential here," he told the AP.
• You can expect Heard on the Hill to keep humming along even through the "Dog Days" of October, but only if you continue to pitch in with your tips sent to merickson@ljworld.com.
Copyright 2018 The Lawrence Journal-World. All rights reserved. This material may not be published, broadcast, rewritten or redistributed. We strive to uphold our values for every story published.