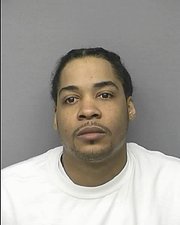 An arrest warrant has been issued for a 31-year-old Lawrence man charged with firing a gun in February outside an apartment in northern Lawrence.
James C. Benimon II failed to appear at a hearing Thursday in Douglas County District Court. Benimon faces charges of criminal discharge of a firearm and criminal possession of a firearm by a felon. Benimon is accused of firing several shots from one car into another the evening of Feb. 8 outside an apartment in the 1300 block of Michigan Way, near Second and Michigan streets.
Benimon had been free after posting a $25,000 bond.
Benimon was also indicted in August in federal court for failing to register as a sex offender after being released from a Kansas prison in June 2011. Benimon had served nearly 10 years in prison for a Wyandotte County conviction for aggravated indecent solicitation of a child under the age of 14. Jim Cross, a spokesman for the U.S. District Attorney's Office, said Benimon failed to register as a sex offender when he moved to North Dakota following his release.
Copyright 2018 The Lawrence Journal-World. All rights reserved. This material may not be published, broadcast, rewritten or redistributed. We strive to uphold our values for every story published.