The Bureau of Alcohol, Tobacco and Firearms is offering a $2,500 reward to anyone who has information leading to the arrest and conviction of whoever is responsible for a series of suspected arsons in south central Lawrence.
Photo Gallery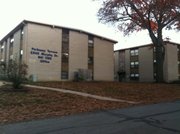 Suspected arson cases
A look at some of the apartment buildings targeted in a string of recent suspected arson cases in Lawrence.
Since Oct. 19, more than a dozen small fires have been set in and around apartment buildings in an area near 23rd Street south to 25th Street and from Iowa east to Naismith Drive.
Many of those fires have occurred in laundry rooms or hallways of apartment complexes. The fires have also been set inside of apartment complexes where exterior doors to the buildings are not locked. Fire officials suspect the fires have been intentionally set, but have not released any more information.
Two recent fires in the area have fit the general pattern of the recent suspected arsons, but public safety officials have not said whether they are being included among the suspected arson cases.
Last Thursday, which was Thanksgiving, there was a fire at the Park 25 apartment complex, 2401 W. 25th St. And Sunday night, emergency crews responded to a fire at an apartment complex at 1721 W. 24th St.
The Thursday evening fire was the only one that occurred west of Iowa Street, though still near the other fires.
The Journal-World filed an open records request Tuesday with Lawrence-Douglas County Fire Medical for incident reports on the two recent cases.
The ATF will accept anonymous tips, and information can be left with several agencies: Lawrence-Douglas County Fire and Medical at 785-830-7065, the Lawrence Police Department at 785-830-7430 or the TIPS Hotline at 785-843-TIPS (8477).
In a statement released on its Facebook page, Lawrence-Douglas County Fire Medical urged apartment residents to check to make sure that smoke alarms are working, and that all combustible materials are removed from hallways and exits. The department will assist apartment complexes install additional smoke alarms and emergency lighting, the statement said.
Copyright 2018 The Lawrence Journal-World. All rights reserved. This material may not be published, broadcast, rewritten or redistributed. We strive to uphold our values for every story published.