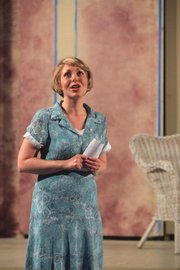 'The Sound of Music'
"The Sound of Music" plays at Theatre Lawrence Nov. 30, and Dec. 1, 2, 6, 7, 8, 9, 13, 14, 15 and 16. Curtain is at 7:30 p.m. Thursday, Friday, and Saturday nights, and at 2:30 p.m. Saturday and Sunday afternoons.
Tickets are available by calling the box office at 785-843-7469 or online at www.theatrelawrence.com.
There is just something about "The Sound of Music" that speaks to young hearts. Maybe it's the music; maybe it's the romance; maybe it's just the charm of the Austrian setting.
Whatever it is, it is both undeniable and omnipresent. Just ask the young actors playing the Von Trapp children in Theatre Lawrence's upcoming production of the musical.
"I've loved watching 'The Sound of Music' for as long as I can remember," says 12-year-old Naomi Brakenhoff, who plays Louisa.
"I just love the movie," agrees Josephine Pellow, 9, who plays Marta. "I thought it would be fun to be in it."
Nearly every child gives a similar answer as to why they auditioned. Some of them have slightly different motivations.
Eleven-year-old Jordan Pine says of being cast as Brigitta, "I always wanted to be part of a big production like this."
And 5-year-old Delilah Pellow confesses that she wanted to play littlest child Gretl because her mom did when she was young.
But they all agree the story has that indefinable pull that brought them to Theatre Lawrence, hoping to beat out the multitude of other children competing for parts. (Theatre Lawrence had 100 youngsters audition).
"I'm a romantic, and I buy into that whole dream," says director Terrance McKerrs.
Like the kids, McKerrs is drawn to the show. Despite having directed it several times, he didn't want to pass up the opportunity to have another go at it.
He was originally approached by Theatre Lawrence Executive Mary Doveton about directing '9 to 5,' to which he replied, 'What about 'The Sound of Music'?
He's pleased to have gotten his wish, and he's happy to be working with the children he cast.
"All the kids are such well-disciplined actors," he says. "They're such ladies and gentlemen; they take direction very well."
Maybe it's that unnamed magic of "The Sound of Music" that does it.
"I've been watching the movie since I was a kid, and Liesl has always been my favorite character," says Abby Ilardi, 15, who plays the 16-going-on-17 Liesl. "I saw the first production they did here (seven years ago), and I got to meet Liesl after the show. I knew then I wanted to do this."
But what is it about "The Sound of Music" that makes this show so special that it captures the hearts of young and old alike, generation after generation?
Perhaps it's because this musical — more so than maybe any other — is really about family. The healing of old wounds and the building of relationships are central to the show's story.
"We feel like a real family," Abby says, balancing her 5-year-old cast-mate, Delilah Pellow, on her knee like a little sister.
"I hope (the audience) sees the bonding between family members," Brakenhoff says. "I hope it's real for them."
Indeed, it is a family moment that always brings a tear to McKerrs's eye:
"At the end of 'So Long, Farewell,' the adults sing the final line back to the kids like they're tucking them in. That always gets me."
And so maybe the mystery surrounding "The Sound of Music" isn't so hard to understand after all. It is pure magic and has been since Rodgers and Hammerstein first premiered it back in 1959. Generations later, it still weaves a spell of romance, music, and, most of all, family.
"I hope I make people smile," Delilah Pellow says.
Copyright 2018 The Lawrence Journal-World. All rights reserved. This material may not be published, broadcast, rewritten or redistributed. We strive to uphold our values for every story published.