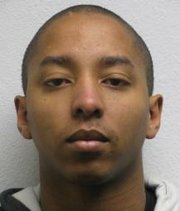 Escape charges against a Colorado sex offender who escaped from a prison transport van in Lawrence Oct. 29 have been dropped and he's been sent back to Colorado, according to court records.
Deon Gregory Routt, 22, was on the loose for less than 24 hours after escaping from a prison transport van near 23rd and Louisiana streets. The next day, he was captured near Kansas University.
Routt was being transported by Topeka-based Security Transport Services from the east coast back to Colorado. Routt was arrested in Maine on a warrant issued by the El Paso County (Colo.) Sheriff's Office for failing to register as a sex offender, according to a sheriff's office spokesman.
Routt faces up to 18 months in prison for failing to register as a sex offender in Colorado.
Routt was convicted in 2011 of sexually assaulting a child in Colorado, but the crime occurred when Routt was a juvenile and additional information about the conviction was not available.
Copyright 2018 The Lawrence Journal-World. All rights reserved. This material may not be published, broadcast, rewritten or redistributed. We strive to uphold our values for every story published.