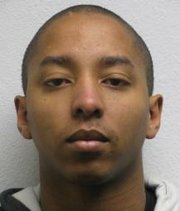 A Colorado sex offender who escaped from a prison transport van in Lawrence Monday night was charged Wednesday afternoon with aggravated escape from custody in Douglas County District Court.
Deon Gregory Routt, 22, escaped from a prison transport van about 5:30 p.m. Monday near 23rd and Louisiana streets. Area law enforcement searched the area for several hours and enlisted the help of a canine search unit but didn't find Routt.
On Wednesday, police said they could have done a better job alerting the public that Routt had escaped.
He was at-large until about 3 p.m. Tuesday, when police spotted Routt talking to a group of people near the intersection of 12th and Indiana streets, said Lawrence Police Sgt. Trent McKinley. Routt fled when police approached, jumping over several retaining walls, but he was arrested in the 1100 block of Mississippi.
The officers who first spotted Routt were conducting foot patrol of the area after several witnesses reported seeing someone matching Routt's description in the Oread neighborhood.
When police arrested Routt, he was taken to Lawrence Memorial Hospital as a precaution, but he sustained only minor injuries during the pursuit, McKinley said.
It's not yet clear what type of restraints Routt was wearing when he escaped, but at some point he removed any handcuffs or shackles.
Police response
Lissa Caussey, who lives in the Breezedale neighborhoor near Haskell Indian Nations University, said she was frustrated by a lack of information about the case immediately after Routt's escape.
Police were searching her neighborhood, and officers on the scene provided some information about the incident.
But police didn't send out a news release about the escape until Tuesday morning, 15 hours after it occurred.
Caussey and her neighbors turned to a neighborhood listserv, sharing what they knew with each other.
"We were emailing back and forth," she said.
The Journal-World ran a brief story that police were searching for an escapee, but calls Monday evening to police for more information were not returned.
"That's certainly regrettable," said McKinley, the police spokesman. "Their function is to return those calls."
McKinley said the goal in such situations is to provide timely information to the public, in hopes of protecting their safety and asking for assistance or witnesses.
"That would've been more ideal," he said.
McKinley said the police have talked about how to respond better in future situations.
Next step for Routt
What happens to Routt now is unclear. He'll face the aggravated escape from custody charge in Douglas County, which is a level-8 felony, punishable by up to two years in prison.
His preliminary hearing in the local case is Nov. 6.
Failing to register as a sex offender in Colorado — the original reason Routt was arrested — is a felony punishable by a prison term of one year to 18 months.
Routt was being transported by Topeka-based Security Transport Services from the east coast back to Colorado. Routt was arrested in Maine on a warrant issued by the El Paso County (Colo.) Sheriff's Office, according to a sheriff's office spokesman.
Security Transport Services was involved in another prisoner escape case in November 2011, after a prisoner traveling through Kansas to Colorado stole the van he was being transported in. The van had stopped at a rest area in Topeka when the prisoner — Dartanin Mitchell — escaped. Mitchell was arrested two weeks later in Denver.
Calls to the company have not yet been returned.
Routt was convicted in 2011 of sexually assaulting a child in Colorado, but the crime occurred when Routt was a juvenile and additional information about the conviction was not available.
Copyright 2017 The Lawrence Journal-World. All rights reserved. This material may not be published, broadcast, rewritten or redistributed. We strive to uphold our values for every story published.