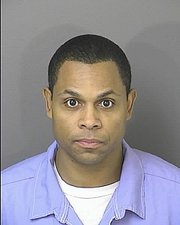 The Kansas Prison Review Board has continued the parole decision for Kansas inmate Joel L. Russell for further assessment, according to Kansas Department of Corrections spokesman Jan Lunsford.
Russell is serving up to a life sentence for several sex crimes from the early 1990s, and was eligible for parole in June. Last month, Russell was identified by DNA evidence as a suspect in an unsolved 1985 Topeka rape. Another man, Joe Jones, had spent nearly seven years in prison for the crime before his exoneration by DNA evidence in 1992.
Russell was served an arrest warrant in April, and has been charged in Shawnee County with one count of rape.
Lunsford said it usually takes three or four months to make a decision once the Prison Review Board has continued a decision. The board can grant Russell parole or pass him for a period of up to 10 years.
Copyright 2018 The Lawrence Journal-World. All rights reserved. This material may not be published, broadcast, rewritten or redistributed. We strive to uphold our values for every story published.