Lawrence-Douglas County Fire Medical crews are investigating a fire that broke out in a garage at 915 Missouri at about 2:30 p.m. Thursday.
Division chief Eve Tolefree said in an email that the fire caused about $15,000 and was likely caused by improper disposal of ashes.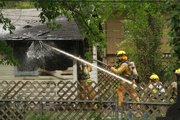 Copyright 2018 The Lawrence Journal-World. All rights reserved. This material may not be published, broadcast, rewritten or redistributed. We strive to uphold our values for every story published.