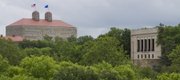 Subscribe to the email edition of Heard on the Hill and we'll deliver you the latest KU news and notes every weekday at noon.
Your daily dose of news, notes and links from around Kansas University.
• This weekend, look for a lot of U.S. Army ROTC cadets to converge on Lawrence as KU hosts the Army Ranger Buddy Challenge.
This is a mental and physical challenge for two-person teams from 29 colleges and universities from 13 states. Eight mini-obstacle courses will be set up for the cadets testing their knowledge of everything from knots, military reporting formats, movement techniques, first aid tasks to weapons tasks.
The KU Army ROTC's cadets took first place last year in the men's division and third in the coed division.
It all gets started bright and early at 5 a.m. and ends with a 10k run at 6 p.m. The events are scheduled for the Sesquicentennial Park area at Clinton Lake southwest of Lawrence.
• I thought I'd share a blog post from Rocco Landesman, chairman of the National Endowment for the Arts, posting about his visit to KU and to Lawrence.
He praised the Spencer Museum of Art and its director, Saralyn Reece Hardy.
"She is a total dynamo—incredible energy, incredible commitment—and she is making a big difference at the museum without a doubt," Landesman wrote. "She is very much committed to that museum and to that community, and she's doing a fantastic job, she really is."
More thoughts on his visit are available at the link.
• The Chronicle of Higher Education reports that the number of students enrolled in college and on financial aid is on the rise.
About 82 percent of all first-time, full-time undergraduate students are receiving financial aid, up from 79 percent in the previous report. Also, the percentage of students taking out loans is growing too, up to 53 percent from 51 percent, the report showed.
Another interesting bit of data from the report calculated the amount of money spent on instruction at most institutions. The figure for public four-year institutions? About 30 percent, according to the data.
• A full 100 percent of my efforts here at Heard on the Hill are dedicated to information. Help out by sending me a tip for Heard on the Hill to ahyland@ljworld.com.
Copyright 2018 The Lawrence Journal-World. All rights reserved. This material may not be published, broadcast, rewritten or redistributed. We strive to uphold our values for every story published.