Photo Gallery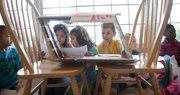 Kindgergarten class visits Bridge Haven
A partnership based on the close proximity of Hillcrest School and Bridge Haven Memory Care residence could end if the Lawrence School Board chooses to close that school. Jennifer Wilk's kindergarten class visits Bridge Haven periodically to cheer residents and share what they have learned.
Watch out, Lawrence. There's a chance of some wild and wacky weather.
Gingerbread tornadoes, pumpkin pie snow, ice cream fog and pizza lightning are all a possibility, if Jennifer Wilk's kindergarten class at Hillcrest School has anything to say about it.
And they have a lot to say.
Earlier this month, Wilk's students walked a few doors down on Hilltop Drive to Bridge Haven Memory Care Residence to interact with the residents.
Bridge Haven, a white house with blue shutters, sits in the middle of a residential neighborhood and looks like any other house. However, the facility provides family-style assisted living for eight senior residents in varying stages of Alzheimer's disease. The facility prides itself on its core values of home, family and attentive care.
Wilk has been taking her kindergarten or first-grade classes to Bridge Haven for about five years. The children spend 15 minutes to half an hour performing plays, presentations or showing off art projects or other things they're learning in school. Last month, the children made Valentine's Day cards and gave them to the residents.
"Every year, we tend to up how many times we go," Wilk said. "I like to try to go about once a month."
This month, the children wrote and typed their own scripts and created and decorated their own "television sets" out of cardboard boxes. The children just learned about weather a la "Cloudy With a Chance of Meatballs," Wilk said. The book by Judi Barrett inspired the project.
Peering out from behind their makeshift TV sets, the kindergartners took turns telling their crazy weather forecasts.
"It's a really cool experience for the kids," Wilk said.
She said the children are sometimes shy the first time they visit Bridge Haven, but they warm up quickly. She added that not many people, Hillcrest staff included, knew where Bridge Haven was or what the facility did before the partnership began.
Robert Wilson, executive director for Bridge Haven Memory Care Residence and for Bridge Haven Care Cottage, said it's a cool experience for the residents, too.
"They perk up. They get more into life again," Wilson said. "You can see the changes in their faces when children come in."
Robert League, a resident at Bridge Haven, sat and watched as the children performed their weather forecasts. He said he enjoyed when the kindergartners came to Bridge Haven.
"They bring back such wonderful memories from when I was their age," he said. "I loved school."
The partnership between Bridge Haven and Hillcrest began when Wilk's full-time para-educator at the time, Margaret Dixon, knew an assistant who worked at Bridge Haven. Dixon helped get Wilk in touch with Bridge Haven, and she began taking her kindergarten or first-grade classes down the street to interact with the residents.
"Usually after the first time they warm up and get excited to go and show off what they're learning in class," Wilk said. "You know, sometimes they ask questions — you know, 'How come he doesn't talk?' or 'How come he's in a wheelchair?' — and they just ask questions about that, and it's just an opportunity for us to talk to them about how different people need different things."
Wilk and Wilson agree that the partnership is beneficial to both the Bridge Haven residents and the Hillcrest students.
However, the Lawrence school board is currently looking at the best way to close and consolidate some of Lawrence's smaller elementary schools, and Hillcrest is on the list.
"It's tragic because it's such an important school," Wilson said. "I feel like it's one of the more important schools here in Lawrence because it's an English as a Second Language school, and there's a lot of diversification there. So we would hate to see it happen."
Other schools being considered for closure include Cordley, Kennedy, New York, Pinckney and Sunset Hill.
If Hillcrest were to close, the partnership between the Bridge Haven and the school would also end. Wilson said Bridge Haven would reach out to other groups in hopes of saving the relationship between children and the elderly, but it would be more difficult.
"They would have to be bused in," he said. "So it would have to be a field trip for them."

Kristin Scheurer, director of marketing at Bridge Haven, agreed and said the partnership between Bridge Haven and Hillcrest creates an important environment for the children and the senior residents.

"There's something really magical about that connection between the residents and these kindergartners," Scheurer said.
Copyright 2013 The Lawrence Journal-World. All rights reserved. This material may not be published, broadcast, rewritten or redistributed. We strive to uphold our values for every story published.