Photo Gallery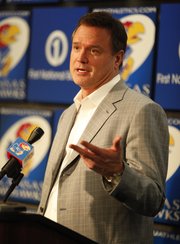 KU NCAA Selection Show Press Conference
Press Conferences & Post-Game Interviews
KU coach Bill Self
Kansas men's basketball coach Bill Self talks to reporters following his team's selection as a No. 2 seed on March 11, 2012.
Press Conferences & Post-Game Interviews
KU players Tyshawn Taylor and Conner Teahan
KU players Tyshawn Taylor and Conner Teahan talk to reporters following the Jayhawks' announcement as a No. 2 seed on March 11, 2012.
The Kansas men's basketball team has been selected as a No. 2 seed in the Midwest region and will face 15th-seeded Detroit at approximately 8:57 p.m. Friday on truTV.
North Carolina is the No. 1 seed in that region.
"I don't think that Detroit is an easy first-round game," KU coach Bill Self said Sunday. "I think when you think of 2 and 15s in the past, you certainly don't see Detroit being on that line. They're very capable."
KU recruited Detroit's best player, Ray McCallum Jr., who was a McDonald's All-American in 2010.
"He is a good guard. I have been hearing a lot about him these last few years," KU guard Tyshawn Taylor said. "He is tough, and I'm sure he is going to be aggressive since the team runs through him."
McCallum plays for his father, Detroit coach Ray McCallum.
If the Jayhawks advance past Detroit, they'd play the winner of the 7-10 matchup between St. Mary's and Purdue.
If KU advances to the Sweet 16, its next potential two games would be in St. Louis, Mo.
Here are the seeds for the Midwest region.
North Carolina
Kansas
Georgetown
Michigan
Temple
San Diego State
St. Mary's
Creighton
Alabama
Purdue
N.C. State
California/South Florida
Ohio
Belmont
Detroit
Lamar/Vermont
Copyright 2018 The Lawrence Journal-World. All rights reserved. This material may not be published, broadcast, rewritten or redistributed. We strive to uphold our values for every story published.