Traffic on Interstate 70 is close to a standstill and backed up from about the Lecompton interchange to mile marker 198, or about the Kasold overpass.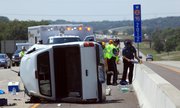 Journal-World photographer Richard Gwin, who is on the scene, said the cause of the jam is a single-car accident near Lecompton that ended in a pickup rolling over.
Emergency dispatchers confirmed that a single patient was transported from the scene to an area hospital by a ground ambulance.
Check back to LJWorld.com for more information as it becomes available.
Copyright 2018 The Lawrence Journal-World. All rights reserved. This material may not be published, broadcast, rewritten or redistributed. We strive to uphold our values for every story published.