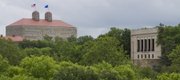 Subscribe to the email edition of Heard on the Hill and we'll deliver you the latest KU news and notes every weekday at noon.
Your daily dose of news, notes and links from around Kansas University.
• I heard and read quite a bit from folks remembering science fiction writer Ray Bradbury, who died Wednesday.
Bradbury visited KU in 1997, and according to this Journal-World article from the time, was quite well-received during an audience at the Lied Center.
He put on a KU baseball cap briefly, and then took to the podium. Some of the stuff he said then was right in line with the great Bradbury quips I'd been hearing.
He actually talked a little bit about death that day, too.
"In the midst of our excellence we have the feeling of the end of the world," he said. "It's not true. It's a lie. The world will end the day you die. All the people will vanish and you'll wonder where the hell they went."
He also went on to say that it's important to get up and be madly in love with something every day.
"You've got to get up and want to live forever. Your task in the universe is to witness and celebrate the impossibility of our life here. You're only here once and you're not coming back."
KU's resident science fiction guru, professor emeritus of English James Gunn, also penned a bit in memory of Bradbury here.
• KU Hospital announced on Wednesday that it had been selected as the official health care provider for Major League Baseball's All-Star Week.
Physicians and nurses will be providing first aid at all kinds of All-Star stuff coming up next month as Kansas City hosts the game.
They will cover the game on July 10, the home run derby and a whole slew of other pre-game activities.
In looking at the pre-game activities, I guess I was impressed by how willing some companies seem to sponsor some of them. There's the Gatorade All-Star Workout Day, the State Farm Home Run Derby, the SiriusXM All-Star Futures Game and the Taco Bell All-Star Legends and Celebrity Softball Game. Maybe they spend all that money just in case someone like me writes all those down.
Heard on the Hill might sponsor something at the All-Star game, but I'm betting I'd be lucky to sponsor a portable toilet.
• The University of Missouri's student newspaper, The Maneater, reports that the bill that would essentially prevent KU from offering a KU license plate in Missouri is on its way to the governor of the state.
The reporter asked MU political science professor Marvin Overby about the idea.
"I wish I could say that such activities were rare for state legislators, but largely symbolic legislation of this sort is actually very common," Overby told the Maneater. "In large measure this is because the public is often far more responsive to symbolic gestures than to substantive policy changes."
There certainly did seem to be a large amount of public response to this issue (which got started, you'll recall, in Heard on the Hill).
• Ray Bradbury would surely be proud because I get up and I'm madly in love with all the tips you're sending me for Heard on the Hill to ahyland@ljworld.com.
Copyright 2018 The Lawrence Journal-World. All rights reserved. This material may not be published, broadcast, rewritten or redistributed. We strive to uphold our values for every story published.