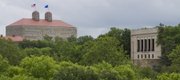 Subscribe to the email edition of Heard on the Hill and we'll deliver you the latest KU news and notes every weekday at noon.
Your daily dose of news, notes and links from around Kansas University.
• The reading occasionally gets backed up quite a bit here at Heard on the Hill World Headquarters at Seventh and New Hampshire, so this New York Times article on hazing — and a death at Cornell — had been sitting around for a month or so before I had a chance to read it.
The article includes some details about Sigma Alpha Epsilon, the fraternity involved in the Cornell hazing death. Namely, it reported that the national fraternity, as part of a lawsuit settlement, had to post all of the cases when chapters were put on probation, suspended or expelled from 2007 to 2011.
Here's the report on the fraternity's website (thanks to an alert reader who found it after I couldn't). The Times reported that nearly 80 of the fraternity's 223 chapters had faced disciplinary action during that time.
But KU's case, where 19-year-old Jason Wren died after a night of heavy drinking, and was found in his SAE house on March 8, 2009, didn't make the list of incidents. Though it does say that the chapter has gone alcohol-free. That's a detail I don't remember seeing anywhere else. UPDATE: In fact, this article from the University Daily Kansan from just last month indicates that the chapter hasn't gone dry, at least according to the chapter president. Strange stuff, and I'll see if I can pin it down. UPDATE II: The national chapter confirmed for me that the KU chapter hasn't gone alcohol-free.
Wren's father, Jay Wren, sued the fraternity, and the two parties reached a settlement last year. Details of the settlement weren't disclosed.
The national SAE chapter called Wren's death "unfortunate" and an "isolated incident."
Since the New York Times article was printed, a 20-year-old SAE chapter president at San Diego State University was found dead on the morning of April 20 at another fraternity house.
• After I wrote on Wednesday about how Pittsburg State University license plates were being offered in the state of Missouri, I cheekily goaded Missouri (one of my favorite activities) about not having KU plates.
But, now, after hearing from some well-placed tipsters, it looks like KU is trying to get some Jayhawks on license plates in Missouri after all.
I've got some phone calls out, so look for a story later with more details (Heard on the Hill readers, as usual, get a sneak preview of the news first), but the Missouri Jayhawk plates are still at least a year or so away it looks like, and still have a few hoops to jump through before they become a reality.
You can already get a Jayhawk on your license plate in Maryland and Texas, if you're so inclined.
• I'm getting ready to cover commencement on Sunday, marking the end of yet another academic year at KU (and the end of my fourth KU academic year I've covered as a reporter).
In all that time, though, I've never reported just how many steps it takes to walk down the hill at graduation.
Thanks to KU Info, however, we all know the answer is about 300 from the Campanile to the entrance to the stadium.
No stairs on the graduation route, KU Info reports. They've got a whole bunch of other commencement information, too, if you're curious about what's going to happen on Sunday.
As for me, I'm just hoping this weather forecast holds true.
• I'm still working on that Heard on the Hill license plate. I think mine would say "SNDTIPS" with a bumper sticker right next to it that read "to ahyland@ljworld.com."
Copyright 2018 The Lawrence Journal-World. All rights reserved. This material may not be published, broadcast, rewritten or redistributed. We strive to uphold our values for every story published.