Infrequent. A long time. Once in a blue moon. A rare event.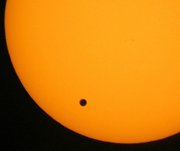 How to safely watch the transit
Here are a few ways to protect yourself:
• Wear special viewing glasses such as solar eclipse glasses. You can buy them online or at your local museum. Alternatively, you can go to a hardware store and get a pair of welder's glasses, but make sure it's number 14 or darker. Or make a pinhole projector with cardboard. Do not watch the transit with regular sunglasses.
• Peer through telescopes outfitted with special filters at viewing parties hosted by museums, observatories and astronomy clubs.
• Tune in online. NASA, Slooh.com and the Exploratorium in San Francisco are among those that plan live webcasts.
— Associated Press
Astronomy aficionados will have the opportunity to catch one of the universe's rarest events Tuesday: the transit of Venus, when Venus passes the sun's path, appearing as a small, black dot against the sun's backdrop.
The Astronomy Associates of Lawrence, an astronomy club, will host a viewing event at 4:30 p.m. Tuesday in the Lied Center parking lot for those who'd like to catch a glimpse of something that won't happen again until 2117.
"Not many people in the history of Western civilization have seen this through a telescope," said Rick Heschmeyer, president of the club.
The transit occurs in pairs, eight years apart, before taking a long hiatus. The transit happened in 1874 and 1882, before occurring again in 2004. The next scheduled transit, for those who like to plan ahead, will be in December 2117.
Heschmeyer said the club will provide filtered telescopes to protect against harmful sun rays. The transit will not be viewable without such equipment.
Viewers will have a three-hour window Tuesday to catch the transit, Heschmeyer said.
For more information, visit the group's website.
Copyright 2018 The Lawrence Journal-World. All rights reserved. This material may not be published, broadcast, rewritten or redistributed. We strive to uphold our values for every story published.